Intercontinental Flight Mode
Typing on an intercontinental flight is a challenging task at the best of times, made even more challenging when the cabin lights go down and your fellow passengers are trying to catch some sleep. In the darkness of a 17 hour flight with thousands of photos to edit and hundreds of scribbled notes to translate into copy, a flight over the Pacific is perfect time to get work done.
If you've ever tried to type while the cabin lights are off, you know how hard it is to see the keys with the screen tilted down a bit to reflect some backlight in their general direction. To it's credit, IBM was the first to address this problem in its business class ThinkBook's by adding a small light to cast a beam onto the keyboard.
Samsung opt for a very faint electroluminescent keyboard backlight on this 9-series notebook. The way the keyboard backlight is implemented is curious; if ambient light is too bright, it actually refuses to turn on... so there's no blinging out your notebook with cool looking keyboard. Secondly, the keyboard backlight is very faint, not bright but rather 'twilighty.' Both the screen and keyboard backlight automatically adjust to light conditions using a built in sensor, so the nice bit is you don't have to fiddle around in the dark to try and find the backlight button.
As you can see in the photo below, there's just a bit of definition by the backlight around the keys themselves. The white character imprinted in each key glows softly blue-white and is clearly legible. To simulate typing away in the perpetual blackness of an airplane cabin, we jotted down a few pages of text on the 900X4C-A02 ultrabook at 3AM, in the next best place a perpetually busy reviewer finds his work invading - the bed. Snug as bug with all the lights off and the monitor dimmed down to it's lowest luminosity setting, the twilight-bright keyboard backlight was good enough to find all the keys and type with ease.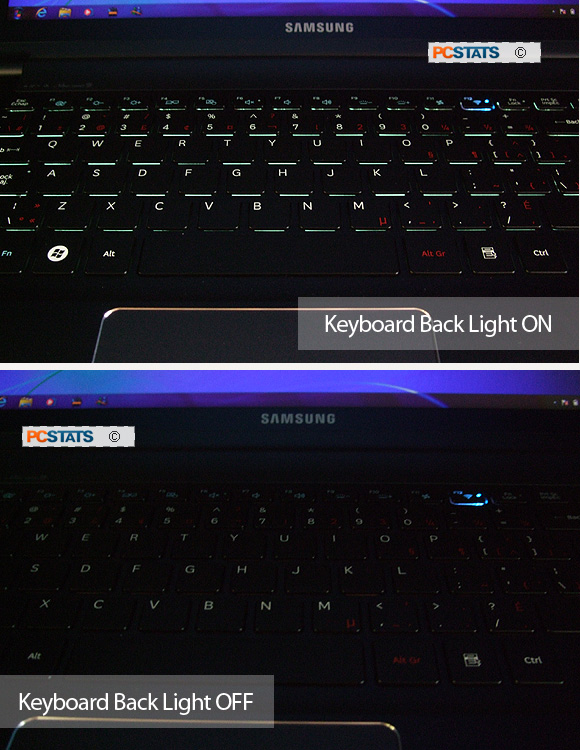 Generally speaking, a little more keyboard backlight is due, I'm not sure why Samsung engineers capped things off at twilight illumination levels. A little edge lighting around the touch pad would't hurt either. The touchpad is slightly inset below the palm rest, but the two surfaces feel identical. The touchpad is large enough that it's becomes nearly impossible to tell when your fingers are contacting the right surface to move the cursor.
1.3 MegaPixle Webcamera
A notebook without an integrated webcamera isn't complete, yet we all expect pretty poor quality from these pin hole sized cameras. Mounted above the NP900X4C-A02's 15.0" LCD screen is a tiny 1.3 megapixel webcam - a super useful tool for conducting 'face-to-face' meetings with far off colleagues or simply keeping in touch with relatives.
Built-in microphones are placed about the notebook to pick up your voice for video conferencing and Cyberlink YouCam comes pre-installed. The webcamera is easy to get up and working with YouCam, or users can set up a Skype account or Microsoft Office Live Meeting and go that route.
What does the picture quality look like from a 1.3MPixel webcamera? The pin sized lens in the Samsung 9-series notebook actually exceeded our picture quality expectations; there was little visual fuzz and the video refresh rate more than adequate for telecommunication via skype. Here's a screenshot from the webcamera itself, click to view the full-size, uncompressed image.