Samsung's 9-Series NP900X4C-A02 notebook is the latest in a new line of what are called "Ultrabook's", a fancy name bestowed upon sleek and slim laptops that elicit envy at first glance. Intel came up with the Ultrabook concept last year to help the PC world compete against the Apple juggernaut, so far it's yielding positive results. An "Ultrabook" isn't merely a Mighty Morphin Power Ranger take on a notebook, it's a niche laptop segment which aims to marry performance, long battery life, Intel hardware and really compact platforms into a package that appeals to design conscious users.
Design wise, Samsung have done well by their 9-Series Ultrabook; the system is wrapped in dark cobalt blue aluminum chassis that adopts many of the design elements of an Apple Macbook Air, yet posses the large screen size of a MacBook Pro (albeit with better hardware) and a sticker prices that won't cause heart failure. The Samsung 9-Series NP900X4C-A02 Ultrabook retails for around $1599 USD/CDN, as tested in this PCSTATS review. Samsung take a page out of the Apple playbook and pack the 9-Series notebook in a spiffy black presentation box, with all the over-designed packaging and individual pockets for each accessory you'd expect. Inside the box is a quick start manual, recovery DVDs, network dongle and AC power adaptor.
Flipping open the Samsung NP900X4C-A02's thin screen panel reveals a bright, expansive 15.0" LED backlit wide screen display connected to an impossibly thin aluminum chassis with an expansive touch pad and full size keyboard. Beneath the Scrabble-tile keyboard ticks a quad-core, 1.9GHz Intel Core i7 3517U 'Ivy Bridge' processor. 'Ivy Bridge' is Intel's 3rd generation Core i7 processor architecture which incorporates 'HD 4000' integrated graphics -- this IGP offers some limited DX11 gaming and supports dual displays.
The notebook PCSTATS tested is the 'NP900X4C-A02CA ' version which ships with a 4mm thick 256GB mSATA SSD by Samsung, 8GB of DDR3-1600 memory, an SDXC port, integrated Intel 802.11abgn WiFi with Bluetooth 4, USB 3.0 and Windows 7 Pro x64 SP1 installed.

Samsung 900X4C-A02 Ultrabook Laptop




Technical Specs at a Glance:
Model: NP900X4C-A02
Screen: 15", 1600x900px
CPU: 1.9GHz Intel Core i7-3517U
Chipset: Intel HM75
Memory: 8GB DDR3-1600
HDD: 256GB Samsung SSD
OS: Windows 7x64 Home Premium
Graphics: Intel HD 4000 IGP
Size: 35.7x23.7x1.5cm
Weight: 1.65kg (3.6lbs)


Price: $1599 CDN

Camera: 1.3mpix HD webcam
USB: (2x) USB 3.0, (1x) USB 2.0
Network: Gigabit LAN via dongle, 802.11abg/n Wifi, Bluetooth v4
Audio: 4W stereo speaker/mic
Ports: mini-VGA, micro HDMI, mini-LAN, 1/8" headphone jack, SD/MMC memory card slot, DC power.
ODD: none
Keyboard: 87-key, flat keys
Touch Pad: scroll scope, flat, gesture UI
Battery: Li-ion, 8 cell, 62Wh (non-removable)
Warrranty: 3 Years
The 9-Series Ultrabook weighs 3.6 lbs and offers a good mix of features and portability packed into a chassis only 1.49cm thick. It's 35.7cm width does make it best sized for everyday work rather than sheer travel portability. The notebook also sports a 1.3MP HD web cam and internal microphone for web conferencing, a set of 2W speakers tucked in around the back which are half decent and a 4-in-1 SDHC/MC memory card reader.
The Intel Core i7 3517U is a quad-core mobile chip with 4MB L3 cache, built on the 22nm process so it only sips about 17W of power giving the entire platform a tested battery life of 7h42m. The CPU's two physical cores simultaneously process four logical application threads between them, care of HyperThreading. Depending on system load, Intel Turbo Boost will kick the clock frequency of the i7 3517U up to 3GHz to process single-threaded applications faster. The notebook itself is built around the Intel HM75 chipset, with the Intel HD 4000 graphics running at 350-1150MHz and supporting QuickSync, Wireless Display, DX11, OpenGL 3.1, SM4.1 and HDMI 1.4 standards.
Ultrabook's are too compact for standard mechanical 2.5" notebook hard drives (or optical drives, for that matter) so the NP900X4C-A02 uses a 4mm thick Samsung MZMPC256HBGJ 256GB mSATA SSD partitioned into a 208GB primary partition, 8.3GB hibernation partition and 21.78GB recovery partition. Two USB 3.0 ports and one USB 2.0 port capable of serving as a smart phone recharging port facilitate installing programs and moving user data back and forth.
All told, the narrow sides of the Samsung 9-Series only have room for three USB ports and some miniturized connectors: microHDMI, mini-VGA, mini-LAN dongle port, 1.8" headphone/microphone port, and a DC power port.
In keeping with the 9-series streamlined design ethic, the notebook is refreshingly free of superfluous buttons and LED status lights. In the top corner next to the Escape key is a single battery charge status LED and light sensor which automatically dims/brightens the screen and keyboard backlight as needed. In darkened spaces the screen will dim, in direct sunlight the brightness is boosted to ensure legibility. At the right hand side, a single Power button and blue status light round out the user controls -- all other system control is are nested in the Function keys.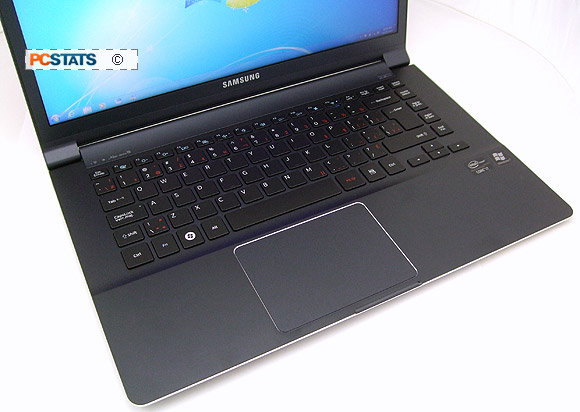 Wired GbE LAN requires a dongle (included), so the majority of users will likely access the internet via the Samsung NP900X4C's comprehensive '2x2' 802.11abgn WiFi adapter. Built in Bluetooth 4.0 makes it easy to sync a smart phone or use an external bluetooth mouse/printer/keyboard. The Scrabble-tile keyboard on the Samsung 9-Series is full size, with 87-keys and a comfortable key-pitch. The 4.25" x 3" touch pad supports multi-finger gestural inputs and seamlessly integrated left/right click buttons.
Physically, the Samsung NP900X4C-A02 measures 357mm (14 inches) wide, 237mm (9.3 inches) deep and 14.9mm (0.58" inches) thick. It weighs weighs 1.65kg (3.6 lbs) which is too heavy, but since the notebook is wider than typical notebooks (and very thin), we'd recommend getting a padded notebook sleeve to protect it's aluminum skin while being carted about. Waterfield Designs are a great source for notebook sleeves.
In its fresh installed state, the Samsung 9-Series notebook took 10 seconds from the instant the power button is pressed to arrive at Windows desktop. That is very quick! Shut down takes approximately 8 seconds with time to go into Hibernation around 3 seconds. Coming out of sleep and back to the desktop takes less than 1 second! Nice.


The NP900X4C-A02 is nothing if it isn't exceptionally thin and slim. Just look at this notebook next to a relatively fat and porcine Sharpie marker!
Fixed Internal Battery
Being as slim as it is, the NP900X4C-A02 Ultrabook uses a fixed eight cell rechargeable lithium ion battery pack that's housed inside the chassis of the notebook. The battery is rated at 62Wh and not user removable. Charge time is about 3.5 hours from 10% duty to 100% and battery life will largely depend on how the computer is used. In PCSTATS tests, with no devices connected (ie. USB thumb drives, USB mice) and WiFi enabled, the NP900X4C-A02 notebook survived nearly 7hours 42 minutes in Bapco's MobileMark 2012 battery life test, with a Office Productivity Performance Qualification Rating of 91.
On a side note, the 900X4C-A02 is a generally well balanced notebook except when the screen is tilted all the way back; the notebook has a tendency then to want to flop backwards. While passing a notebook to a college with just one hand is never a good idea, there is a good 1" of clearance to either side of the 900X4C-A02's keyboard for an easy grip. Build quality is first rate; the aluminum chassis feels sturdy and shows minimal flexing when held from one edge. There's nothing worse than a plastic notebook chassis that bends like wet spaghetti when held from a single corner.
Intel Ultrabook Concept
First announced by Intel at Computex 2011, the Ultrabook concept basically describes a slim and lightweight notebook designed to compete directly with the Apple MacBook - hey, why not call a spade a spade?
Technically, Intel applies the "Ultrabook" label to laptops that meet three criteria; 1) the laptop must be no thicker than 0.8" / 21mm and "elegant" in design 2) it must have a battery life of at least 5 hours (typically +7 hours) and 3) it must be powered by an Intel 2nd gen 'Sandy Bridge', 3rd gen 'Ivy Bridge' or upcoming 'Haswell' Core i5/i7 processor. More generally, an Ultrabook will incorporate fast I/O devices like USB3.0 or Thunderbolt, hardware level security technologies like Intel Anti-Theft Technology and Intel Identity Protection and the ability to resume from hibernation (S4 power state) in under 7 seconds.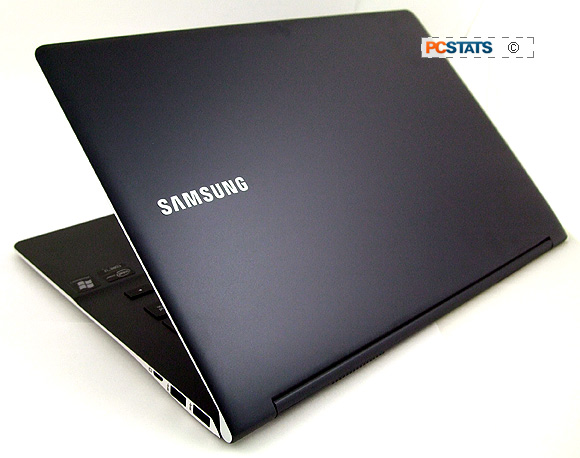 It's impossible to take a bad photo of this sleek and elegant notebook from Samsung
Being slim and portable makes a notebook a high value target for theft. To that end, the Samsung NP900X4C-A02 is equipped with Intel Anti-Theft Technology which can lock down the notebook if it is lost or stolen, automatically or by sending a lock command over the Internet (presuming you subscribe to a service beforehand). Once it's locked down, the notebook won't boot up but can display a custom recovery message in case whoever finds it decides to be a good samaritan. Intel Anti-Theft Technology is hardware-based so it's supposed to be quite tamper-resistant.
Intel Identity Protection Technology (Intel IPT) is a hardware-level feature that establishes a "trusted relationship" between a notebook user and a secure website - this is handy if you do a lot of online banking AND give out your account details to Nigerian princes who offer to send you millions of dollars. IPT can establish a link between the hardware and website, so even if a users login details are compromised they won't be of any use without the hardware authentication. This is beyond the scope of our review, but if you'd like to read more Intel has details here.
Let's take a closer look at the display and several other features of the Samsung 900X4C-A02 notebook next.