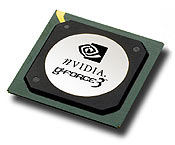 The GeForce 3 GPU has 57 million transistors on board. According to nVidia this is more then double the number of transistors found on the GeForce 2 core, and more then the Pentium 4 CPU contains. The GeForce 3 features nVidia's nFinite FX engine which allows for programmable T&L operations, LightSpeed Memory Architecture, and the ability to do High Resolution Anti-Alaising (HRAA). Judging by the names, it looks like nVidia have hired many of the same people Intel does!
With the advent of the nFinite FX engine, nVidia have given game developers the opportunity to use an infinite number of special effects, textures, and the like. Game developers are no longer bound to what the GPU was physically designed to do, but rather they are now limited by what they can program the GPU to perform.
A prime example of this difference are nVidia's Zoltar and Chameleon demos. The Zoltar demo illustrates the differences between the level of detail capable with the GeForce 2 and GeForce 3 pixel shaders. The GeForce 3 is capable of significantly more detail because the programmers are not limited to what the video card's GPU is capable of.
| GeForce 2 | GeForce 3 |
| --- | --- |
| | |
The Chameleon demo illustrates the difference in Vertex shaders. As you see, the GeForce 3 is much more lifelike and realistic when compared to the GeForce 2.