How important is Anti-Alaising? Well apparently important enough for nVidia to develop a new form of AA. Older cards such as the GeForce 2 and ATi's Radeon series of cards perform anti-alaising by using supersampling. What that does is in a sense, it makes the videocard render the image at a much higher resolution usually denoted by the number (eg. 2x anti-alaising, would render an image from 800x600 to 1600x1200) then it scales the image back down to the set resolution. Now, the biggest drawback for a gamer using AA is the performance hit. You're basically dividing your fill rate by the ratio of AA used! If you're using a very fast card (GeForce2 Ultra), you can probably get by with max 2x anti-alaising, but if you were unfortunate and have a GeForce DDR or maybe GeForce 2 GTS, any form of AA can almost be ruled out. Again, here we hit the memory bottleneck that plagues older cards. However with the GeForce3, users have a totally different option.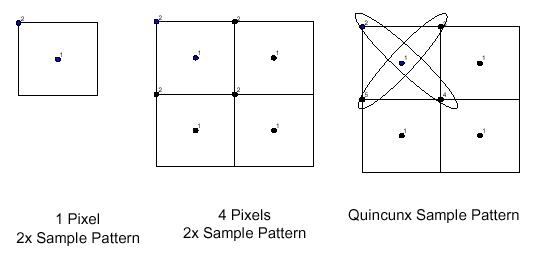 Using Quincunx AA would give you almost he same quality as 4x AA for the price of 2x! How does it achieve this? By using a new form of anti-alaising called MultiSampling. What multisampling does is make the GPU sense the colour of the other pixels around a particular spot and blends them together.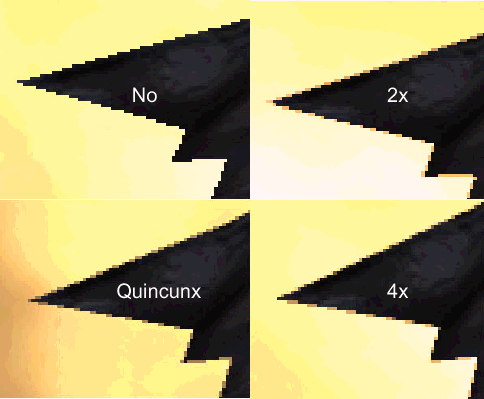 As you can see, even the background has been affected. It blends a lot more then the other images.