Beginners Guides: Back up and Restore Data in WinXP
---
Tired of reinstalling WinXP after a nasty virus strikes? Create a drive image and save your data, and your time. - Version 1.1.0

Sure, if you've read our article on hard drive restoration you know that there are ways to recover lost data cheaply and easily, but this can lead to a false sense of security. What happens when a hard drive dies completely? It will die eventually... make no mistake.

I've seen hard drives dropped, catch fire, make excruciating noises and simply stop for no apparent reason. You have got to back up your essential data.

Catastrophic hard drive failures happen, and when they do, even if you still have warranty support for the drive you're out of luck; no disk manufacturer warranties the data on the drive. Your only recourse is data recovery services, and they can charge enormous amounts for their services, though often only if they are able to recover the data. In the face of all this potential trouble, $100 for a new drive doesn't seem so bad, does it?

Methods of backup 1: Drive imaging and full system restores

The 'drive imaging' method of backing up data involves making an identical copy of a partition (a grouping of some or all of the space on a hard drive so that the operating system can access it as a logical drive like c:) and storing it elsewhere.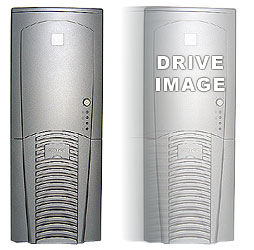 Generally a separate physical hard drive is used, or some sort of removable storage such as CDs, DVDs or tapes. Generally this 'image file' is compressed, so it takes up considerably less space than the original. In the event of disaster, this file can be restored to a new hard drive, and for all intents and purposes, will be completely identical to the state of the old drive at the point the image was made. Very handy.
Drive imaging originated with products like Symantec's Norton Ghost, intended to make the installing and configuration of large numbers of identical PCs less of a chore. A technician would install the operating system and required programs on one computer, make sure everything was functioning correctly, then create an image file of that system which would be stored on a server computer.
Using a boot disk with the drive imaging software, the rest of the computers would access the image from the server and clone it onto their hard drives. The tech would then make minor changes to each system, and have a room full of functionally identical computers in a fraction of the time it would have taken to install each of them individually.
Drive imaging is the best method of protecting against a catastrophic failure, like a hard drive dying. The image created is identical to the original, so with a new drive installed, you can continue as before. The disadvantages of this method are two-fold. First, drive image files can be extremely large, and are time consuming to make. If you are using removable media such as CD-Rs, an image can span several disks. Second, and more importantly, image files are only current the moment you create them. As soon as you begin working with your PC, installing software, etc. your image is now out of date and restoring the drive will not restore files you created since.