Rather than using embedded circuitry on the PCB, the SMC EZconnect PCI card makes use of a standard PCMCIA 802.11b adaptor card. The only downside to this set up is that SMC have put a piece of tape down so that the PCMCIA card is not really that removable.
With the antenna sticking out of a computer it makes a prime target for getting snapped off if the computer case is ever moved around.
smc networks -pci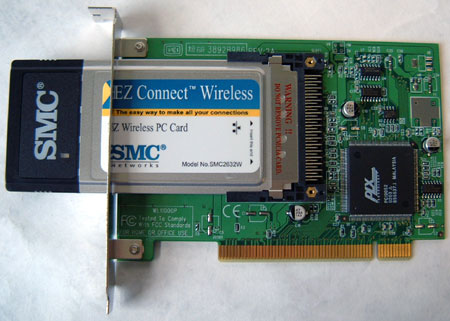 Hardware Installation:
Installation of the PCI card is straight forward. Simply install it into an empty PCI slot and load in the drivers. Once the computer accepts it, all that remains is to set the proper SSID, and WEP password. The SMC EZ Connect Utility makes adjusting all of these settings quick because they are all located at the bottom corner of the screen - with the signal strength identified with a nice green icon.

SMC Networks USB 802.11b
Like any other USB device, the very tiny WLAN adaptor (it measures just 8cm x 5.5cm x 2cm) needs only to be plugged into an available USB port with the included cable before the computer will prompt for drivers and install the device as another Network Adaptor.
smc networks -usb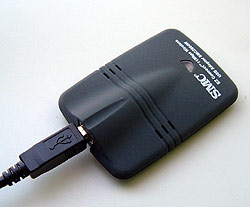 Software Installation:
With our test system running WindowsXP we were unable to install the utility which shipped with the unit. Instead, we had to go over to www.smc.com and download another set of drivers which were compatible with Windows XP.

The wireless USB adaptor worked right off the bat, although the computer listed the connection as unavailable at first for some reason. Anyway, the only problems we experience were when 64-bit WEP was engaged. It seemed as though the windowsXP wireless networking controls were a bit simplistic when it came to the topic of entering a Pass Phrase (it only accepts the raw hex-digits). In fact, after we had set the router to 64-bit WEP it even crashed the test system for some reason. Ultimately, it took some tinkering to get the USB adaptor talking to the WAP again.
Summary of SMC 802.11b Equipment
Even with the manuals we found that properly configuring all the various wireless access points is really something for more advanced users. With changing IP addresses, complex and varying menus for each particular setting, and a relatively error sensitive web-based configuration system things can quickly come to the point where the WAP needs to be reset. Sometimes more than once even.
Once everything was configured with the SMC units however, the problems were quickly put behind us and in general the SMC system operated as it should have. Next up we have several entries from TrendNet....