Actiontec's R3010SUW Cable/DSL Router is by all accounts a portly piece of equipment. Putting the units rather simple appearance aside, the 802.11b wireless router does have a few extra features that make it quite appealing to the home user. For starters, on the side of the unit we find a PCMCIA port - presumably for an 802.11a adaptor to bring 53Mbps connections to the table as well.
Unlike some other 'wireless-ready' routers which boast the same feature, the Actiontec model has twin dipole antennas and an internal Wi-Fi link. So to be clear, the side PCMCIA port is a bonus, not the source of the units' wireless connectivity.
Hardware Installation:
There are no printed manuals with the Actiontec Cable/DSL router so we simply followed the one graph on a quick-start pamphlet which came in the package. Set up consists of plugging in an AC adaptor and hooking up the WAN and Ethernet cables.
Software Installation & Initial Setup:
As the Actiontec Cable/DSL router is really intended for home networks the set up is incredibly easy and straight forward. Getting the unit to operate on the small subnetwork with internet access from our main LAN literally took just 3 minutes without needing to dive into the electronic manuals. Actually there isn't much choice in this matter as Actiontec only supply a printed quick start guide with the wireless Cable/DSL to get you started.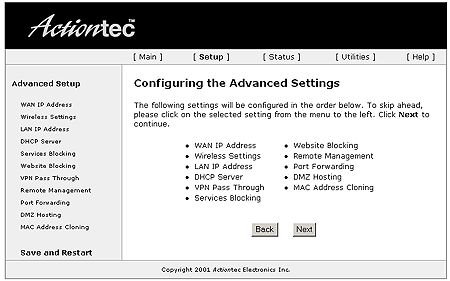 I was really pleased that the setup processed so smoothly, but also be aware of the limited wireless security measures available. The only two options at hand are SSID and triggering 64-bit or 128-bit WEP with a pass phrase. There were no options that we could find for MAC address filtering - but I suppose the unit is really only meant for home or SOHO operation. Something to keep in mind anyway...
To keep an ISP's Broadband servers happy about your connection, the device supports MAC address cloning. Basically the router can be cloned with the same MAC address as your previous NIC to fool the ISP into thinking nothing has changed. In most cases broadband connections are determined by a host name and a MAC address which the ISP's servers lock on to.
| | |
| --- | --- |
| IP Address: | 192.168.0.250 |
| Subnet Mask: | 255.255.255.0 |
| Default Gateway: | n/a |
Setting up a Secure Wireless Connection:
Since MAC address filtering was out of the question we looked to the other two options for basic WAN security. With a quick click of the "enable 64-bit WEP" in the Advanced setup menu and were presented with the chance to type in up to four hexadecimal keys.
This is more universally accepted manner of specifying keys, but I have to wonder how many people will be tempted to just cut and past the example that Actiontec mention below (4D-33-EF-C6-1A)? In any case that is the number we dropped in for Key 1.
Making changes to the Advanced setting menus is very easy to accomplish, and this is partly because the number of things which can be altered are limited. It can get somewhat tiring as you are forced to go from A to Z every single time you make a change, any change.
Default Network Settings
Updated Network Settings
(only examples)
WAN IP Address:
192.168.0.1
192.168.0.1
Password:
remote disabled
myPass
SSID:
ACTIONTEC
testACTb
WEP:
disabled
64-bit enabled
Passphrase:
n/a
not used
Channel:
1
MAC Filters:
none
none