trendnet -pci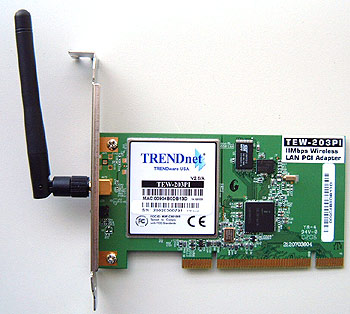 Trendnet's PCI card is pretty nice compared to the other entries for a couple of reasons. The Intersil WLAN chipset isn't that unique, but the 203PI is the only card with a removable antenna connected to a reverse SMA jack. As with the WAP, this WLAN card can be connected up to a larger antenna to increase its range. The little antenna is good for about a 2dbi of signal, while the card itself is capable of outputting up to 15dbm.
Hardware Installation:
The PCI card installs just as another expansion card into a free expansion slot. The drivers can be loaded up from the CD which Trendnet include with the package in a mater of moments. Configuring the wireless adaptors properties in WindowsXP is accomplished via standard windows menus and while they are not as nice to deal with as a custom piece of software, they keep the cards lean and relatively trouble free.
Trendnet USB 802.11b
trendnet -usb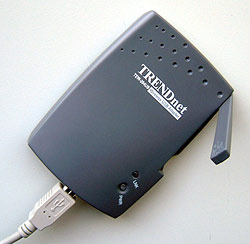 Hardware Installation:
The USB adaptor works best if you install the software support for it before actually connecting it to a hub or USB port on the computer. Once the Intersil software has been setup the USB adaptor will be identified and should pop up as a new wireless connection. Since we had already set the Trendnet WAP to 64-bit encryption we were asked for the encryption key before the connection would be accepted (which it then did just fine).
If you have a computer which has used another USB wireless adaptor previously there is good chance that it may become confused during the installation process so it is advisable to pick out the driver specifically instead of letting windowsXP do it itself.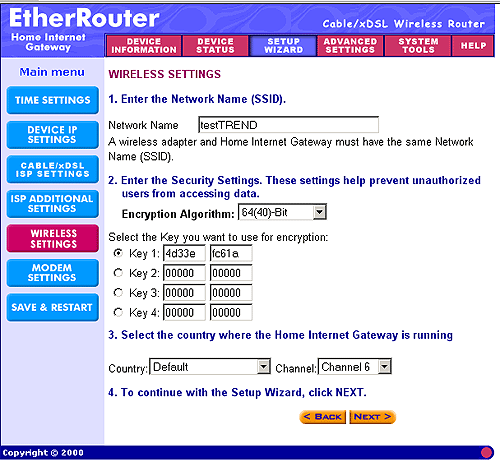 Summary of the Trendnet Wireless equipment
Between TrendNet's products and SMC's there is a very close battle raging. Both companies hardware was well built, but TrendNet's administrative features were easier to set up, and keep working. Transfer rates were about average, but throughput seemed to be slightly higher than on the other units we looked at.