Abstract: Wireless LAN's are gaining in popularity with a speed that is eclipsing the rate at which Ethernet's were originally adopted by home users.

Home > Reviews > Networking > Various 802.11b
Wireless Test Results
We tested each of the adaptors and Wireless Access Points with NetIQ's Qcheck utility, and with a 11.8MB file data transfer for a good cross section of results under both non-encrypted settings and with 64-bit WEP enabled. Throughput of about 5Mbps was standard across the board for each of the adaptors, but when WEP was enabled things were not as predictable.

Of the three systems we were able to test to satisfaction, the throughput test results varied from as low as 2.5Mbps to as high has 4.8Mbps. Interestingly, those results were not necessarily indicative of which unit offered the fastest data transfers...
Wireless Network Setups
PCI - to - WAP
SMC
Actiontec
Trendnet
Average Throughput
4.899 Mbps
4.486 Mbps
5.242 Mbps
Response Time
5ms
4ms
3ms
11.8Mb Test file transfer
13sec
50sec
35sec
WEP Average Throughput
2.550 Mbps
3.373 Mbps

4.849 Mbps

WEP Response Time
6ms
5ms
5ms
WEP 11.8Mb Test file transfer
19sec
61sec
36sec
10/100 Wired Ethernet

61.5 Mbps

Wired Response Time

1ms
In this series of tests we tested each manufacturers PCI card solution to their Wireless AP. It should not be overlooked that when two computers are set to conduct the test at the same moment the overall thoughput generally goes down by some degree.
The Trendnet equipment appears to come away with the best overall throughput, with the Actiontec products closely following. The data transfer test on other hand pitted the SMC gear in the highest position, followed by the gear from Trendnet and lastly Actiontec. Response times were just about even across all of the manufacturers products.
Wireless Network Setups
USB - to - WAP
SMC
Actiontec
Trendnet
Compex
Average Throughput
4.927Mbps
5.128 Mbps
4.454 Mbps
3.035 Mbps
Response Time
3ms
5ms
7ms
6ms
11.8Mb Test file transfer
20sec
33sec
33sec
32sec
WEP Average Throughput
n/a
3.388 Mbps
4.040 Mbps
n/a
WEP Response Time
n/a
5ms
8ms
n/a
WEP 11.8Mb Test file transfer
n/a
62sec
33sec
n/a
10/100 Wired Ethernet

61.5 Mbps

Wired Response Time

1ms
We had several problems getting the USB adaptors to work under WEP. The SMC and the Compex adaptors just didn't take to the changes after the WAP was set to 64-bit WEP. In the other tests throughput was best on the Actiontec equipment, followed by Trendnet and SMC. Under WEP encryption the Trendnet wireless USB adaptor has the best results there.
Data transfers were once again captured by SMC with the lowest timings. Actiontec and Trendnet remained steady at 33sec under the non-encrypted settings, but Actiontec quickly fell to much slower times as soon as WEP was enabled. Response times were a little more distributed with the USB adaptors, but generally in the same region.
Conclusions
Given the wireless products we have looked at it in the small comparison, there are two we would like to single out for honorable mention. While we had a devil of a time trying to get the SMC USB adaptor to work under WEP, the overall performance of these products was quite good. The software and configuration browser is well laid out and the level of settings for security were quite good. The lack of any discussion on the matter of properly setting up WEP or other security measures in the documentation for the SMC unit is a low point, but one that is tempered by fast data transfer rates.
Throughput was captured by Trendnet's products which easily outperformed the other products in this respect. In general, the encrypted data transfer performance was very good, illustrating that 64-bit WEP doesn't alway equate to a performance hit. The configuration menus and system for managing the WAP router were perhaps the best on the Trendnet equipment, but faced with the amount of features and options on the SMC Barricade it is difficult not to side with the latter.
Actiontec's products on the other hand are best suited for beginner users. The configuration screens are easy to work with and very straight forward. For SOHO environments Actiontec's products seem to be best suited. Advanced users will find themselves frustrated with the lack of more powerful tools and side with either Trendnet or SMC.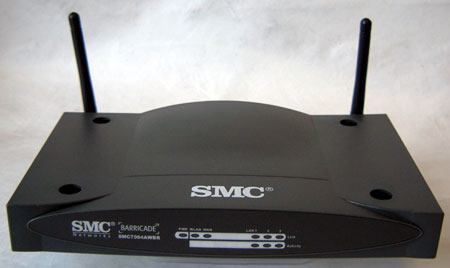 The bottom line is that the SMC unit had roughly the best overall assortment of features, security measures, and speed. This is very, very closely followed by Trendnet's offering and then by Actiontec. Each of these three 802.11b wireless product lines are geared towards different levels of users - but from our standpoint the issue of data security and speed is paramount. In that regard the Editor's Choice goes to SMC, although we wish certain aspects of Trendnet's WAP would be adopted - most notably the removable antennas and the four full ports for the router.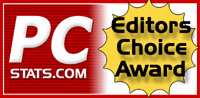 Related Articles:
Here are a few other articles that you might enjoy as well...
1. Belkin Wireless 802.11b Networking Review
2. Installing a Home Ethernet
3. Nexland ISB Pro800 Turbo Router Review
4. RJ-45 Crimpers Review
5. Cutting Your Own Cat5 Cable