The antenna on the Actiontec wireless PCI adaptor is a point of contention for us because it doesn't look like it will give that great of a range. The antenna is simply a small piece of PCB which has been etched in to form an antenna and to which two lengths of shielded cable are soldered.
In our tests with Actiontec's WAP, we noticed the signal strength remained very high thoughout the data transfer tests (as it should being just under five feet away) but signal quality fluctuated quite often.
actiontec -pci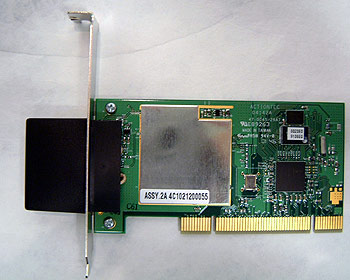 Hardware Installation:
The PCI card installs just as another card does into a free expansion slot. The drivers can be loaded up from the CD in a mater of moments and that is about it.
Configuring the wireless adaptors' properties in WindowsXP is accomplished via the standard windows menus. While these windows are not as nicest way to do things, they are to the point and relatively trouble free.
Actiontec USB 802.11b
actiontec -usb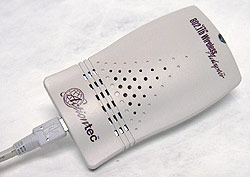 Hardware Installation:
Unlike the SMC USB adaptor which for some unknown reason gave us a lot of problems during driver installation, Actiontec's USB adaptor installed in a snatch.
The installation went quickly and we only had to specify the right WLAN configuration settings by means of standard windows menus. The USB adaptor hooks up to a special USB cable which ships with the unit. The USB connector which hooks into the rear of the USB access point is smaller than the standard USB jack and is more like the kind you would use to connect a digital camera or MP3 player. The smaller size keeps the overall thickness of the unit down.
In our tests, the USB adaptor performed a bit better than the Actiontec PCI card which is a bit surprising as the reverse was true with the SMC PCI adaptor.