Every version of Microsoft Windows since Windows98SE has included the Internet connection sharing (ICS) feature, which will set up your internet-connected PC as a gateway, and configure the other computers in the network to use it.
Advantages of this method are that it is essentially free, and a relatively painless procedure (in 2000 and XP anyhow, 98/ME setup requires a bit of sweat and tears). The major downside of ICS is that the computer designated as a gateway must be on whenever Internet access is needed.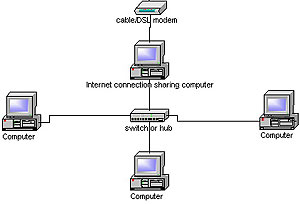 If that computer is off, you've got no connection elsewhere.
There are a couple of other methods of Internet sharing which we will cover very briefly. If you are lucky enough to have a DSL provider who allows you more than one IP address for your account (Bell Sympatico service for example), you can set up a work-around using only a hub to connect to your DSL modem (with crossover network cable), and your PCs (with regular straight through network cable).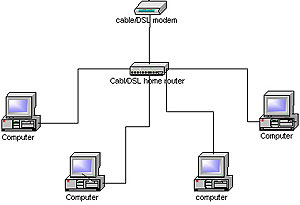 If you happen to have a copy of Windows 2000 or 2003 server lying around, you can set up Network Address Translation (NAT) which is a more complicated and flexible version of ICS that incorporates firewall features, and is exactly what most cable/DSL routers use. Of course, most home users don't have copies of these rather expensive operating systems just lying around, and if you do… Tut tut.