Before any other configuration takes place, we should go through the procedures for configuring the client computers (that is, the computers who are intended to access the internet, but are not directly connected to the DSL or cable modem). This procedure is pretty painless and essentially the same for all methods of Internet connection sharing, so let's do it now.
What we going to do is make sure now that all of the computers on the home network are set up to receive information from the router. To do this, the network adaptor in each computer connected to the router must be set to 'obtain an IP address automatically'.
For Windows XP systems, go to start > control panel > network and Internet connections > network settings.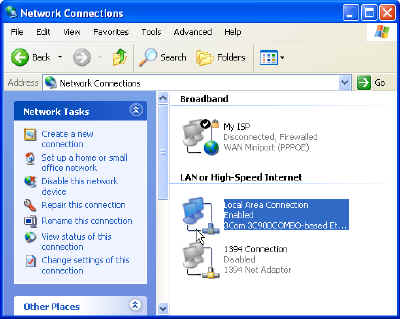 Right click the connection and hit 'properties',
Select the 'obtain an IP address automatically' and 'obtain a DNS server automatically' options.