Attach the Molex power cable to the drive. Unlike the floppy drive power plug, these Molex connectors can only fit into the drive one way, so relax, you can't make a mistake here.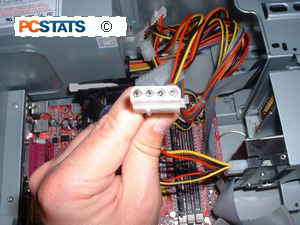 Attach the Primary IDE cable to the drive (for any recent motherboard, this should be a 80 wire UDMA cable). It will be keyed to only fit in one way, but to make sure, the red or blue on the cable should be facing the hard-drive power cable.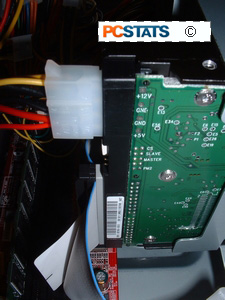 Attach the long end of the cable to the IDE 0 connector on the motherboard first, then if there are other drives attach those IDE cables to the IDE 1 connector.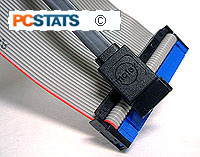 Serial ATA drives are still fairly new, so we will only cover them briefly.
The Serial ATA cable is keyed to fit into the SATA motherboard header, and hard drive in a certain orientation. It is impossible to attach the Serial ATA cables backwards, and since there is only one hard drive per cable we don't need to worry about the master/slave settings of IDE hard drives.
Serial ATA and IDE are not compatible, so to use SATA hard drives the motherboard must have SATA headers. Some motherboards may come with SATA-to-IDE adaptors, but again the motherboard still must have one SATA header per drive.
The SATA hard drive will require either a 15-pin SATA power connector, or standard 4-pin Molex power connector as we described previously.