Step 10: Installing PCI expansion cards
All PCI cards are physically installed the same way. With modern motherboards, which slots you decide to use should not matter, but it is a good idea to space your expansion cards out in order to help with case ventilation. Simply insert the card firmly into an empty PCI slot. It should sit evenly once inserted, with only a fraction of the gold traces on the bottom of the card visible.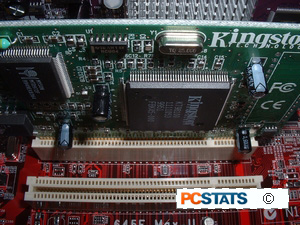 Screw the card into the expansion bracket.
Step 11: Finishing up
If your motherboard came with any extras, such as Modem or network adaptor riser cards, or additional USB ports on a mounting bracket, now's the time to plug them into the board (consult your manual for the correct locations) and screw them into any free mounting brackets you may have.
Double-check all the wiring. Make sure all connections are firmly attached, and ensure that no wires are running close to the top of the CPU heat sink fan. You do NOT want to jam the CPU heat sink fan, especially with an AMD processor.
Double-check everything again. Now get all those loose screws out.
Step 12: Powering up for the first time
Stand the case upright, if it is not already. Ensure that no wires are touching the CPU heat sink fan. Plug your monitor cable into the video card (VGA) port, and turn on the monitor. Plug your PS/2 (or USB) keyboard cable into the keyboard port. Plug in the power cord and switch the power supply switch to the on (|) position. Press the power button. Suspense.... sparks?
If everything is connected as it should be, all system fans should start spinning, you should hear a single beep, and after about 5-10 seconds, the amber light on the monitor should go green, and you will see the computer start to boot.
Depending on the manufacturer of the Motherboard, you may get a splash screen, or just a memory check. The system will then halt with an error because we have yet to install an operation system. If something has gone horribly wrong, just go straight down to the troubleshooting section. If something is on fire, go to the kitchen. You do have an extinguisher, right?
Now check the front LEDs to see if you plugged them in correctly. Power off and fix the LEDS because you didn't. Test the reset button. Assuming you have got to this point without any problems, put the side panels back on, plug in your mouse and network cables and pop your favourite operating system into the CD drive, then power the system back up again. You are done assembling the computer!