Installing the Motherboard, CPU
Line up the ports on the motherboard (PS/2, USB, etc.) with the appropriate holes in the back panel I/O shield of the case (see pic below).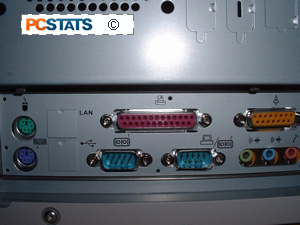 Once the board is temporarily in place, observe which screw holes in the case line up with the holes in the motherboard. These are where you will need to place risers if they are not already pre-installed. Remove the motherboard and insert the risers in the appropriate screw holes.
Step 3: Installing the CPU
Place your motherboard flat on top of the anti-static bag it came in. Ensure that the lever on the cpu-socket is upright (open). Holding the CPU gently on the sides with thumb and fingers, lower it into the socket, ensuring that the arrow on the CPU matches the arrow indented into the socket (see pic below). The processor is keyed to fit into the socket a certain way, and only that way.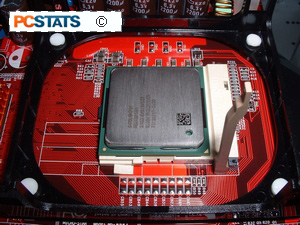 Very little effort should be required to insert the CPU in the socket. If you cannot get the CPU to sit evenly DO NOT force it. Remove it completely and try again. Ensure that the CPU is sitting flush with the socket on all sides. No pins should be visible. Once you are sure the CPU is correctly seated in the socket, lower the lever until it locks. This will require a small amount of force.
Note: These instructions will work for any recent CPU/motherboard combination except for Intel LGA 775 motherboards and processors. Since the pins are built into the socket not the processor, the installation process is slightly different for these devices. To install an LGA 775 compatible Intel chip, you first unlatch the lever at the side of the socket.
This allows you to open the protective cover over the actual socket and the delicate pins it contains. Be very careful that you do not touch the actual pins within the socket, as they are extremely fragile. With the cover open, you can lower the processor into the socket just as you would any other type of chip. Notches in the socket and an arrow on both the processor and the bottom left corner of the socket help you line the processor up correctly. Once the chip is seated properly in the socket, you can close the protective cover and re-latch the lever.
Otherwise, the orientation of the CPU may be different, but the method of inserting it is the same for older socket chips; whether they be Intel, AMD or VIA processors. This guide does not cover slot-based processors, as they are no longer used.

< Previous Page
© 2022 PCSTATS.com

Please respect the time and effort that went into creating each PCSTATS Beginners Guide, do not illegally copy. Thank you.

Next Page >