Beginners Guides: Diagnosing Bad Hard Drives

---
Know... before your hard drive kicks the bucket, taking all your data with it. Clickity-click, time to defuse that dying hard disk! - Version 1.3.0
Bookmark this PCstats guide for future reference.
The hard drive is the single most important device behind the mass acceptance of personal computers in the home and workplace. The ability to save significant amounts of data within a computer itself, rather than being forced to place it on external media finally fulfilled the potential that the PC had never quite lived up to, at least as a business tool. Hard disk storage ability has increased massively since the early days of the technology, and will likely continue to increase in the future as drive's cost per megabyte of storage drops equally fast.
Unfortunately, the underlying technology of hard drives has changed little in the years since their invention, meaning that their essential weakness still exists. The simple fact is that hard disks are mechanical devices with moving parts, and as such, will fail eventually and inevitably.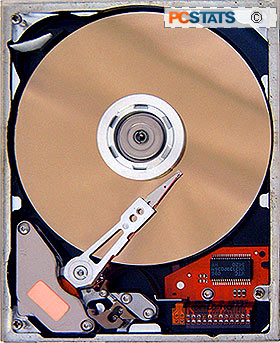 Most computer components, of course, are completely electronic with no moving parts. As such, they have an indefinite lifespan. They do fail, but they don't wear out. Something has to cause them to fail, like a power surge or the like.
Hard drives, even in a controlled environment, will wear out and fail in a fairly predictable time period.
This is the reason that every business blessed with competent tech workers makes frequent backups of its essential data. Because hard drives die often, and often with little warning.
Hard drive companies are some of the best in the business at honoring their warranties and replacing defective products, but none of the manufacturers take even the slightest responsibility for data lost on a failed drive.
Fortunately for the home user who is not blessed with the budget of a small multi-national, there are ways to analyze and detect a failing hard drive before it dies completely.
In this article, PCstats will look at the various reasons why hard disks typically fail, and what warning signs to look for. We will also introduce you to a grab bag of free utilities designed to analyze your drives and detect any flaws which may cause future problems.
This document is intended as a companion piece to our Beginner's Guide to backing up data in Windows XP as keeping regular backups should be part of every computer user's life.
Why do hard disks die?
There are many, many reasons why data can become corrupted or unusable on your hard disk. Hardware failure in other components (especially memory), poorly written software, viruses and improper shutdown of the system can all result in messed-up data. This is why you should always make backups of your data. Of all the reasons though, the actual mechanical failure of the hard drive is the most inevitable and catastrophic.