Abstract: Encryption, Firefox browser, word processing, arcade games and yes even an operationg system can be run off your USB hard drive... if you know how!

Home > Reviews > Beginners Guides > PCSTATS
Boot up with a USB drive con't
If you can't find that setting, look through the various BIOS settings for anything pertaining to USB devices, including DOS support and removable drives. Depending on your BIOS version you may want to look in the 'feature settings' or 'advanced setup' sections.
If you can't find anything relevant, your computer probably does not currently support this feature. All may not be lost though. The manufacturer may have added this feature with a BIOS update to your board. To check this, visit your motherboard manufacturer's website and look for newer BIOS versions for your motherboard model. For more information on finding the exact make and model of your system's motherboard, as well as downloading and upgrading your motherboard with new BIOS files, see our guide on the topic.
Once you have set your motherboard to boot from the USB drive, it's time to make the drive itself bootable.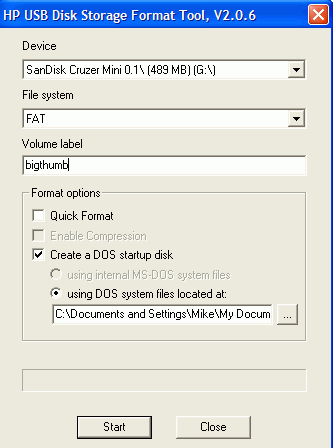 Ironically, the easiest way to do this is by using a floppy disk. If you have a floppy drive on your system, insert a blank disk and double click on 'my computer.' Right click the floppy drive and choose 'format.' Make sure the 'create a bootable system disk' option is checked. This will add the system files you need on your USB drive to the floppy. Click 'ok' to format the disk.
When the formatting process is finished, download the HP USB disk storage tool from here and install it. It is intended for HP removable drives, but we've found that it works just fine on every USB drive we tried. Using this software and the system files now contained on your floppy disk, you can make your USB drive bootable.
To do this, plug in your USB drive and run the HP USB disk storage tool.
Ensure that the tool has found the correct drive in the 'device' window. Change the file system to 'FAT.' Check the 'create a DOS startup disk' option, and in the 'using DOS system files located at' window, enter 'a:\' to point the program to your floppy disk. Now click 'start.' The program will create the necessary boot files on your USB device.
Reboot your system (with the BIOS set to boot from the USB drive) to check that it works. If all goes well, your system should 'clean boot' to the A: prompt. You can now customize your new boot drive with whatever programs and utilities you need.
If you do not have a floppy drive, you can obtain the necessary boot files from several locations on the Internet including here. Extract the zip file to a directory and point the HP USB disk storage tool to that directory for boot files.
< Previous Page
© 2022 PCSTATS.com

Please respect the time and effort that went into creating each PCSTATS Beginners Guide, do not illegally copy. Thank you.

Next Page >