Abstract: Encryption, Firefox browser, word processing, arcade games and yes even an operationg system can be run off your USB hard drive... if you know how!

Home > Reviews > Beginners Guides > PCSTATS
Private email encryption application
If you are using email on a foreign or public computer or Internet connection and you are worried about the privacy of your correspondence, we have a solution for you.
The CryptoAnywhere program is a free, portable email encryption program capable of both sending encoded email and decrypting returning messages. With this program, you can send email securely from any location without worrying about your privacy being compromised, and you can download similarly encrypted messages and decode them safely within the program itself.
This has several obviously useful applications. If you are not keen on the idea of your email correspondence being monitored at work, this is one solution. To use the CryptoAnywhere application, download the file and install the program.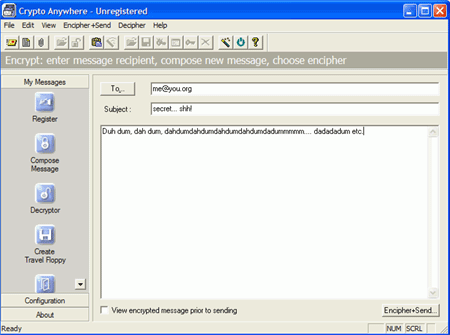 Run CryptoAnywhere and create your first 'identity' with your email address and mail server when prompted. The password is used to decrypt emails sent to you, so remember it. Once this is completed, click the 'create a travel floppy' button along the left side of the screen.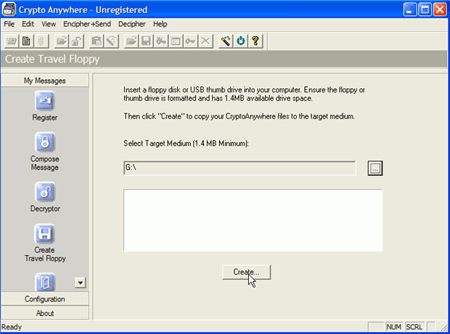 Enter the drive letter of your USB device or use the browse button to locate it. The necessary files will be copied to your USB drive. You can now use CryptoAnywhere (complete with the identity you just created) anywhere you can plug in your USB drive.
When you send mail with CryptoAnywhere, the program adds the encrypted message to an attachment and prompts you for a password which the recipient can use to decrypt the message. To send mail, simply click the 'new message' button, enter the address, message text and any attachments then click 'encipher and send.'
< Previous Page
© 2022 PCSTATS.com

Please respect the time and effort that went into creating each PCSTATS Beginners Guide, do not illegally copy. Thank you.

Next Page >