If you regularly carry documents to and from your work on a USB drive, the Windows XP briefcase feature can help you avoid the confusion of having several different versions of the same work floating around.
The briefcase is a simple-to-use document synchronization application which acts as a virtual container for your work documents. It holds copies of all your current documents, and allows you to work on these files away from your main work system. Upon returning the briefcase to the original computer, you can update any files which have been changed since you left.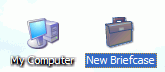 Basically, the briefcase creates offline copies of all of your files which can then be moved to any other system and worked on. Returning the briefcase to your original system allows you to update your files with any changes you made while away.
To use the briefcase application on your USB drive: Create a new briefcase on the desktop by right clicking on an empty area and selecting 'new\briefcase.' Now locate any files you wish to add to the briefcase and drag them onto the briefcase icon. This will create copies of the files in your briefcase. Double click the briefcase icon.

Now Drag and drop the briefcase to your USB drive. Now you can take the USB drive to your other system. Double click the briefcase icon to open it, then work on your files inside it. Do not move the files out of the briefcase. Instead, open the files within the briefcase folder in order to edit them.
When you return the briefcase to the original computer, double click the icon again to open it. Note that the 'status' of any files that you edited has been changed to 'needs updating.' Select 'update all items' from the 'briefcase tasks' section on the left.

A window will open illustrating the changes that will be made to the original documents to bring them into line with the ones in the briefcase. Confirm the changes and click 'update' to carry out the operation. All the original files will be updated with the changes you made on your other system. For more information on file synchronization, see our guide here.