Doom 3 is the most advanced OpenGL game to date, it takes advantage of the latest videocard technology and pushes the processing power of the CPU to its absolute limits. At its highest setting Ultra quality, texture sizes pass the 500MB mark which means even tomorrows videocards will have a hard time running everything. The framerates in the game itself are locked at 60 fps so anything above that point is wasted. Each test is run three times and with the third run being recorded.
Doom3
LQ 640x480:
FPS
Ranking
Gigabyte G-MAX N512
47.8
LQ 1024x768
FPS
Ranking
Gigabyte G-MAX N512
23.3
HQ 1024x768
FPS
Ranking
Gigabyte G-MAX N512
21.6
Well, we have to say we were quite impressed with the N512's gaming performance here. The Mobility 9700 is a DirectX 9 capable part, and this showed when it came to Doom 3. As we expected, the laptop choked on the higher detail levels, but this is no source of shame. Doom remained perfectly playable at lower detail levels.
Final Words on the Gigabyte N512 Notebook
As a mid-range notebook, the Gigabyte G-MAX N512 is easy to recommend. It has all the features you'd expect at its price point, plus some extra and large, high resolution display. It's not a hardcore gamer's laptop along the lines of Alienware by any means, but it's certainly capable enough for some gaming and the occasional LAN party, and ideally suited to office applications, email, and surfing the net.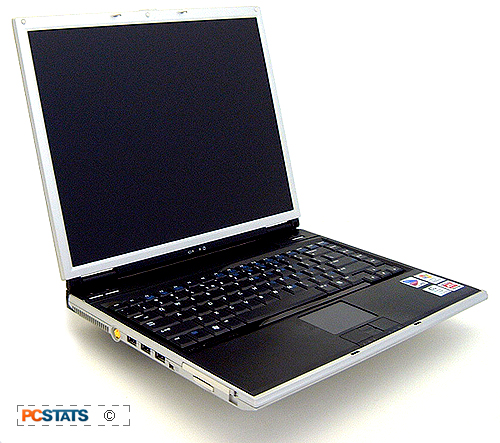 The N512 is somewhat less suited to life as a road-warrior laptop, due to its rather large footprint, middling weight and largely plastic body construction. While it would be fun to take on the road as an entertainment machine, there are certainly laptops better suited to the nomadic lifestyle of the business traveller. The battery life is certainly up to the task though.

Our main concerns about this notebook revolve around the somewhat 'flexible' feel of the case, the side-only USB ports and a slightly washed out display. None of these are deal-breakers considering what the N512 has to offer. Ultimately, the Gigabyte G-MAX N512 is a great mid-range notebook computer with a sleek, expensive and classy look that would be at home on the desk, in the office or home.

Find out about this and many other reviews by joining the Weekly PCstats.com Newsletter today! Catch all of PCstats latest hardware reviews right here.

Related Articles
Here are a few other articles that you might also enjoy...
NEC Versa UltraLite - Extensive Review
HP Pavilion N5150 Notebook Review
FIC Aqua 3400 Revisited
Acer 512T Laptop Review