Gigabyte G-MAX N512 Centrino Laptop Review
---
Gigabyte has long been a major player amongst the Taiwanese technology companies, but it used to be that all the company was known for in North America were its motherboards and videocards. Following in the footsteps of several other manufacturers who have diversified their product lines, Gigabyte has successfully expanded its offerings to include networking devices, peripherals, heatsinks and even laptop computers.
North American consumers are much more familiar with the 'established' notebook brands of Dell, HP, Toshiba, IBM, etc that bombard them with massive amounts of advertising than they are with the offerings of the Taiwanese tech companies. Yet the fact is these technology companies are often the manufacturers behind the parts in the big brand's laptops. With this in mind, let's have a peek at a notebook from one of the larger motherboard and computer technology manufacturers, Gigabyte.
In this review PCstats will be putting the Gigabyte G-MAX N512, which is based on the Intel 'Dothan' processor, through its paces. This 1.7GHz Intel Centrino powered notebook is well equipped to succeed in a variety of roles. The G-MAX N512 features an ample 15" wide TFT LCD screen, ATI Radeon Mobility 9700 graphics chip, 60GB hard drive, built-in 802.11G wireless networking, 512MB of RAM, and weighs a neat 2.5kg. Now, how does all this fare when we put the N512 through a couple rounds of Doom3, or some office benchmarks? Let's find out!

Gigabyte N512 Notebook

Quick Specs

Speed: 1.7GHz, Intel Pentium M
L2: 2MB
Core: 90 nm
FSB: 400MHz
Package: 479-pin
organic mPGA
Chipsets: 855PM/ICH4-M

Includes:
User manual, quick start guide, driver CD, carry bag, wireless optical mouse (GM-W6C), WindowsXP Pro OS, power cord & battery, phone cable, Power DVD 5 and Easy CD & DVD Creator

Further Technical Details:
1.7GHz Pentium M processor (Dothan): 400Mhz FSB, 2MB L2 cache
Intel Centrino 855PM chipset w. AGP 4X
512MB DDR, upgradeable to 2GB (two memory sockets).
ATI Radeon Mobility 9700 w. 64MB video RAM
15" SXGA+ TFT LCD display (1400x1050 native resolution)
Intel Wireless 802.11b/g integrated network adaptor
40/60/80 GB hard drive (4200RPM)
DVD/CD-RW combo drive
16-bit integrated audio
4 x USB 2.0, 1 x Firewire port
VGA and S-Video outs
S/PDIF out for headphones and speakers
56K Modem, 10/100 Ethernet
Type 2 PCMCIA connector
3-in-1 memory card reader (SD, MMC and Sony Memory Stick)
Gigabyte wireless optical mouse (battery powered)
Windows XP professional with DVD utilities and CD creation software
Lithium-Ion battery

Contents of Package:

Gigabyte's G-MAX N512 notebook hits all of the areas you would expect in a mid-range laptop computer, and is priced at the $2,000USD level. The 1.7GHz Pentium M 'Dothan' processor provides nice performance and modest power consumption of which you can expect about 4 hours working time. It comes with 512MB of DDR memory installed, more than adequate for Windows XP and most work or gaming tasks. Once a bonus and now standard with the Intel Centrino chipset is integrated 802.11B/G wireless networking access at speeds of up to 54Mbps.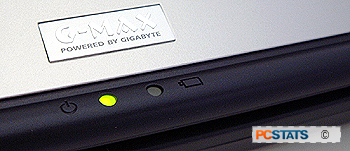 An integrated 3-in-1 flash card reader on the side of the notebook just below the PCMCIA port is a nice feature, and supports the Sony Memory Stick, which should appeal to users of portable MP3 players and digital cameras. The Radeon Mobility 9700 GPU is a DirectX 9 capable videocard, and it offers good gaming performance on the go, even able to handle a little on the road Doom 3 action.
With an overall weight of 5.5 pounds (2.5Kg), the Gigabyte G-MAX N512 is classed as a mid-weight notebook, good for office use, and carrying around. Its frame has dimensions of 13" by 10.5" by 1.0" thick, which gives it a nice and slim appearance. The body of the N512 notebook is mostly plastic, with a nice metallic silver paint job on the screen panel. Gigabyte warranties the laptop itself for a generous 2 years, the adaptor for one year, and the 4400mAhr Lithium Ion battery for six months.