The Lithium-Ion battery plugs into the notebook from the back, an unusual setup which accounts for the sparse placement of rear ports. The battery itself is a Lithium Ion 11.1v DC, 4.4Ahr (Amp hours) equaling 4400mAhr (battery model M62044L). AC-Adaptor is 100V-240V 50/60Hz compatible, and outputs 19V, 3.42A
To determine real world battery life, PCstats ran MobileMark 2004's batter life tests, which measured the N512's battery life at 230 minutes, or just shy of four hours. That's plenty for a good dose of work or gaming on an aircraft, or on the road. Constant use of the optical drive, such as watching a DVD will shorten this time considerably, but the notebook should still have enough juice for a movie on the road.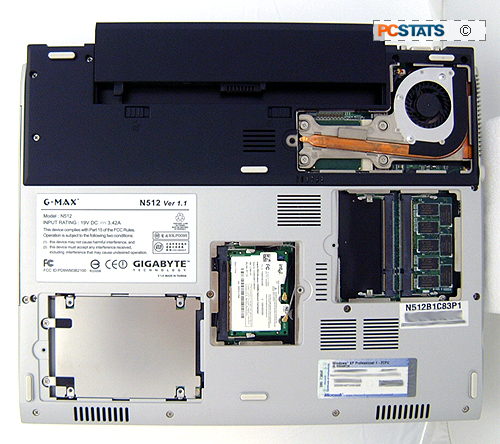 Note: shown with all covers removed.
Upgrading the G-MAX N512
There are a couple viable upgrade paths on the Gigabyte G-MAX N512 notebook; including its memory, hard drive, CPU, and mini-PCI port. The memory compartment contains two DDR SO-DIMM slots, one of which is occupied by a 512MB Apacer PC2700 DDR SODIMM (CL2.5) module by default. Each slot can accept up to 1GB of DDR memory.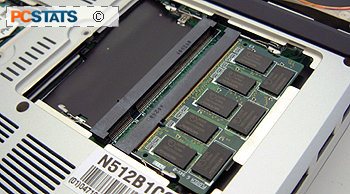 The hard drive compartment can be accessed fairly easily for hard disk swaps, though if you are new to computers, we would recommend having a technician do this upgrade for you.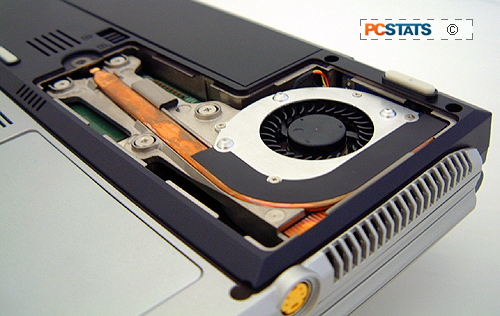 The CPU is also removable and upgradeable, though the manual specifies that this is a job for a technician and that opening the CPU hatch on the bottom will void the warranty. The thermal solution that Gigabyte used involves a stacked copper fin cooler with a squirrel cage fan and copper heatpipe.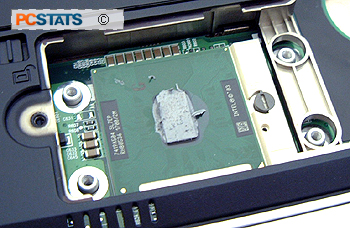 For the record, the Gigabyte G-MAX N512 uses the mPGA479M socket, with one 1.7GHz Intel 'Dothan' CPU installed.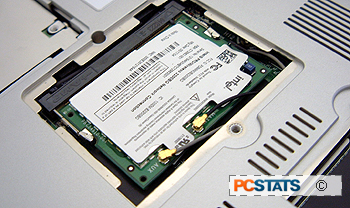 There is also another hatch covering a mini-PCI slot. This is occupied by an Intel 2200BG wireless network adaptor central to the 'Centrino' architecture.