As a home or business machine, the Gigabyte G-MAX N512 notebook does an excellent job. This laptop feels like a fast computer, loading files and applications quickly and running multiple tasks without breaking a sweat. We found testing the machine to be enjoyable experience.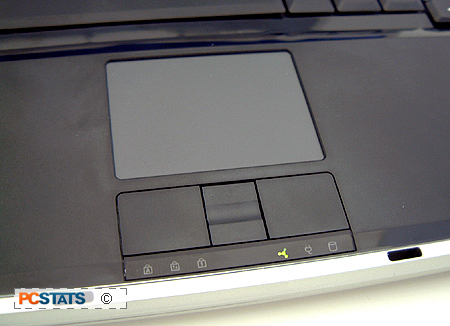 The keyboard, though rather flat as we'd mentioned before, grew on us, and typing (this article was composed primarily on the G-MAX N512) was comfortable and fast. We grew to appreciate the excellent wrist support offered by the large shelf at the front of the machine, with status LED icons to indicate variable aspects of importance.
The included wireless optical mouse seemed to have some unexpected range issues. We first plugged its USB receiver into a left-side USB port, so that we could use the mouse closer to the body of the laptop without the receiver interfering (it sticks out a good 1.5" from the laptop when plugged in).

In this configuration, the response of the mouse was choppy and imprecise. Suspecting a range issue, we moved the receiver over to the single USB port on the right side next to the mouse itself. The response of the device instantly smoothed out. It could be this that motivated Gigabyte to include a single USB port on the right side.
While we had reservations about the positioning of the USB ports, they proved to be very convenient to use on our large test desk at least. Not having to reach around the machine to plug anything in was nice.
The Toshiba SD-R9012 CD-R/RW DVD combo drive did its job as expected, though it was not remarkably fast. The Toshiba SD-R9012 writes CD-R at 16X, CD-RW at 10X, and reads CD's 24X, DVD-ROM at 8X, and DVD-RAM at 1X. The drive features a 2MB buffer, which is pretty standard in the industry. In test with Nero DVD Speed, the average DVD read speed was 5.83X.
The G-MAX N512 did a great job with DVD movies. The picture was excellent, and the sound was quite adequate on our test movie's playback (using the Cyberlink PowerDVD package). The notebook seems quite suited for use as a portable entertainment center with a 230min battery life according to MobileMark 2004.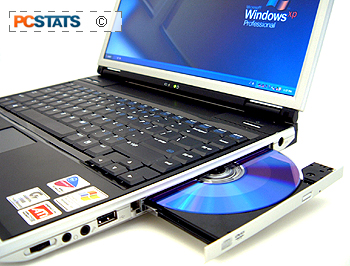 As we stated above, we had some concerns about the display. Don't get us wrong, it's clear and offers crisp text and excellent image quality with adequate brightness across its 15" screen. We found bright colours to be a bit washed out though, and it loses image quality quickly when viewed off centre are due to the 80 degree horizontal L/R viewing angles.
The N512 laptop does heat up considerably as its 1.7GHz Dothan chip chugs along, as you'd expect from any modern notebook. It never got warm enough to be painful during lap use, though we'd recommend a table for the best environment. The vent along the left side was merely warm.
Gaming on the N512
With its 64MB Radeon Mobility 9700 video chip and 512MB of system RAM, coupled with a reasonably fast 1.7GHz Pentium M processor, you'd expect the G-MAx N512 to be a decent gamer, and it did not disappoint us. Everyone's favourite Doom 3 was quite playable at up to 1024x768 at low detail, and medium detail worked fine at 800x600 or below. Even high detail worked at 640x480, but the game experience suffered due to that resolution being so far below the native setting of the LCD.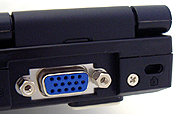 Moving to a slightly less demanding gaming experience, Unreal Tournament 2004 played very well at standard 800x600 resolutions. Any game less demanding than the latter two can be expected to perform flawlessly on the N512 notebook. This makes it an excellent choice if you are a weekend gamer hoping to hone your Counterstrike or UT2003 skills on the go.
Sound was quite well done through a decent set of headphones or speakers attached to the S/PDIF port. Bass is well produced, and though you might miss the EAX or 3D positional effects offered by dedicated PCI soundcards, it's certainly adequate. As we mentioned, the built-in speakers are pretty much useless. Let's take a look at how the N512 performs, starting with whole system and battery benchmarks.