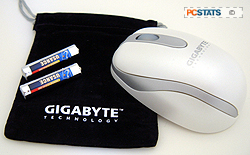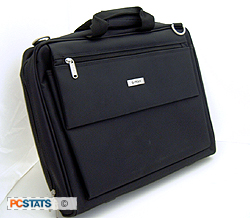 Along with the G-MAx N512 laptop and power adaptor, the bundle includes a few necessary software titles, a laptop bag, a wireless optical mouse (which we will describe in detail later) and a printed manual and quick start sheet.
The review unit PCstats Labs received came with Windows XP Professional (service Pack 1) pre-installed, along with copies of Roxio's Easy CD and DVD Creator v.6 and Cyberlink PowerDVD 5 software. An operating system re-installation CD and a Utilities CD containing drivers and a copy of Norton's Internet Security application is also included.
The included Gigabyte (GM-W6B) Wireless Optical Travel Mouse was an early highlight for us. This round and comfortable optical mouse has a hidden surprise... turning the mouse upside-down reveals an 'eject' button which, when pressed, pops out a USB wireless receiver from its hiding place in the belly of the mouse.

Great for portability and 'toy value.' A small velvet bag is included for transporting the mouse, which runs on two AAA batteries. It's a cool little extra, but North American buyers of the N512 will find the Gigabyte GM-4U mouse included with the notebook instead of the GM-W68 model.
The included nylon laptop carrier is rugged and a useful addition to the bundle. It has plenty of available pockets for your sundry items, and a big comfy pouch for the notebook itself.
The manual and quick instruction sheet included in the G-MAX N512 package are both easy to understand and clear. The printed manual goes into the necessary details on a number of topics such as the BIOS, and system maintenance. The colourful quick-start sheet presents the N512's ports and interfaces, and provides a quick 'getting started' guide. Not quite up to the level of say Dell in user friendliness, but comprehensive nonetheless.