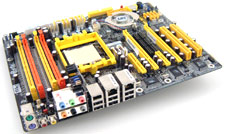 When we first heard some of the specs on the LANParty NF4 SLI-DR, we wondered if it might possibly be the best overclocking motherboard ever built? Testing it in-house only reinforced that opinion.
The layout of the LANParty NF4 SLI-DR motherboard is excellent and it seems like it was designed by an overclocker. That would explain the many tweaker friendly options it sports like power/reset switches, large heatsinks on the MOSFETs and the perfect location of the various ports. Keeping your PC neat and tidy is very easy with this board!
I did have a few qualms with the board however; having to change so many jumpers to enable SLI mode is a bit of a pain, but I'm willing to live with that. One thing I definitely would have liked to see would be a 'newbie's guide' to overclocking bundled with the LANParty NF4 SLI-DR. The motherboard offers options that will potentially damage your memory or processor if not set properly. Novice users should think twice before applying settings to "see what happens" without guidance.
It doesn't do the DFI LANParty NF4 SLI-DR justice to just say that it's fast; it's one of the fastest motherboards on the market that PCSTATS has ever tested! The LANParty NF4 SLI-DR broke the 300 MHz barrier without even needing to raise the stock voltage, and we hit 400 MHz after increasing the chipset voltage slightly. Our particular test sample maxed out at 431 MHz, completely stock with everything air cooled! Over the next few weeks we're going to be testing it out with a Prometeia Mach II GT - so keep an eagle eye out for that very special review...
Of course the DFI LANParty NF4 SLI-DR is not simply fast, it's also one of the most well equipped motherboards on the market and its $260 CDN ($216 US) price tag reflects that. Make no mistake, this motherboard is expensive, but if you want the best, there really is no alternative! In terms of onboard hardware devices, DFI integrates two Gigabit NICs onto the PCB, IEEE 1394, 8-channel audio and an additional PCI Serial ATA/RAID controller. Also included are a lot of "extras" like UV reactive rounded IDE cables, a UV reactive cable sleeving kit, a front panel I/O device and DFI's PC Transpo PC carrying strap.
Looking at the DFI LANParty NF4 SLI-DR, there's little doubt that it really is the best overclocking motherboard ever built to date. Period.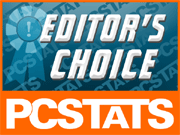 Find out about this and many other reviews by joining the Weekly PCstats.com Newsletter today! Catch all of PCstats latest hardware reviews right here.
Related Articles
Here are a few other articles that you might enjoy as well...