As I'm sure you've noticed, between the two PCI Express x16 slots are a series of manual jumpers. The six sets of jumpers must all be set to the same side depending on whether you want to enable SLI or not. This is not the most efficient method and I would have preferred the switch type method most other manufacturers employ.
Asus has just released its A8N-SLI Premium which uses the Pericom Semiconductor's PCI Express Switch IC. perhaps DFI will implement something like this on future revisions of the LANParty NF4 SLI-DR.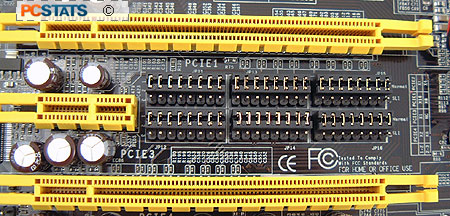 To change the jumpers, DFI thoughtfully include a handy jumper removal tool which is much easier than using your fingers. Because of their small size, a few spare sets of jumpers are tossed in just in case you happen to lose one. Trust me, it's easier done than you think... A small instruction diagram between the PCI Express x16 slots just to the right of the jumpers indicates the settings, as does the manual.
The additional PCIe x1 and x4 slots present on the board use an interesting scheme to divide the additional 4 lanes of PCI Express between themselves. When the SLI switch is 'off' and a full 16 lanes are devoted to the top PCIe x16 slot for one video card, both the x1 and x4 slots each use a single lane of PCI Express bandwidth, while the second PCIe x16 slot gets the last two lanes. When SLI is enabled, the two PCIe x16 slots get 8 lanes each, the x1 slot between them is disabled and the top PCIe x4 slot gets a full four lanes. Got all that?
A PCI Silicon Image Sil3114 Serial ATA RAID controller (generation one) is present on the DFI LANParty NF4 SLI-DR to add extra SATA drive support. By default this controller supports four Serial ATA drives and can also run RAID modes 0, 1, 0+1 and 5. Too bad it has to pass through the PCI bus, but with nothing else big running on it (other than IEEE 1394), there shouldn't be much of a bottleneck.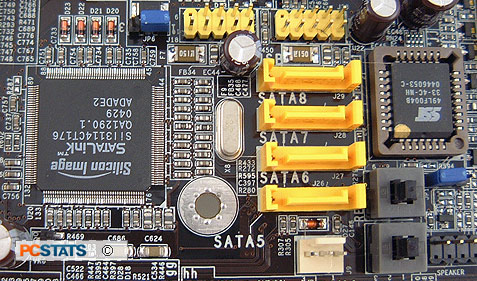 At the bottom right hand corner of the motherboard, DFI has integrated power and reset switches. This is a great feature since many enthusiasts in the middle of tweaking a system don't even bother to install the gear into a case. Using the buttons is easier than shorting two pins with a jumper, or pencil.