DFI LANParty NF4 SLI-DR Motherboard Review
---
When it comes to real overclocking, there's only one company which enthusiasts turn to, DFI. In a market not known for brand loyalty, DFI has somehow been able to forge a strong relationship with overclockers. In fact, DFI has been so successful that it is hard to imagine that the company only entered the enthusiast market two years ago.
When DFI announced the specs for the LANParty NF4 SLI-DR motherboard, I was simply blown off my feet. Most motherboards require some sort of voltage modification for really extreme levels of overclocking, to enable either more CPU, memory or chipset voltage. With the DFI LANParty NF4 SLI-DR, everything is at your fingertips - soldering iron not needed! Newbies mark my words though, this motherboard offers you voltages high enough to seriously damage your system components!
As the name suggests, the DFI LANParty NF4 SLI-DR is a Nforce 4 SLI chipset-based motherboard incorporating a pair of PCIe x16 slots for dual SLI videocard action with compatible nVidia-based graphics accelerators. It supports up to 4GB of non-ECC DDR-SDRAM in its twin pairs of dual-channel memory slots. Up to eight SATA drives can be attached, four using the integrated SATA 3GB/s controller and an additional four on a Silicon Image SATA 150 controller. The usual four IDE devices are supported. A single PCIe x1 and x4 slot are present (the implementation of these is a little unusual, as we will see later). Rounding things off are a pair of standard PCI slots.
The DFI LANParty NF4 SLI-DR is quick and versatile, but it also comes with a ton of features too. First off, the motherboard has two Gigabit network ports, an additional Silicon Image 3114 Serial ATA controller, IEEE 1394 and a 8-channel audio codec. DFI also throws in a lot of extra goodies like a yellow UV Sleeving kit, a black FrontX front panel I/O drive bay utility, two yellow rounded cables and its 'PC Transpo' computer case carrying strap.

DFI LANParty NF4 SLI-DR



Includes:

Motherboard Manual, Quick Installation Guide, Driver CD, RAID Disk, FrontX Drive Bay, Rounded IDE Cable, Rounded Floppy Cable, Window Sticker, DFI Badge, Jumpers, WinDVD, PC Transport Strap, UV wire sleeving kit
DFI knows that enthusiasts not only want fast computers, they want them to look good too. An nothing says classy better than UV reactive yellow computer ports and slots. When a UV cold cathode is placed inside the case, these slots will glow brightly, while the black PCB below will fade into the background. The UV sleeve and zip ties that accompany the DFI LANParty NF4 SLI-DR will also glow when the right light is applied.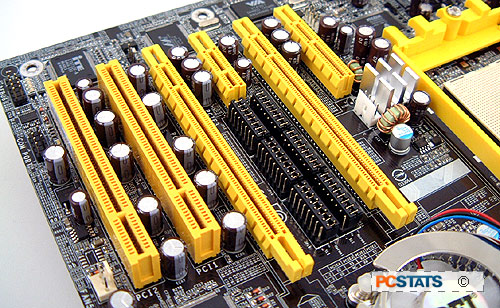 The quality of the capacitors that a motherboard uses is something that we don't talk about much but the ones found on the LANParty NF4 SLI-DR appear to be of good quality. Traditionally brand-name capacitors that come from Japan are considered the best, and we're pleased to report that the ones found on this motherboard are all Japanese made.
As someone who has a lot of USB devices, its good to find six USB ports on the rear I/O. Other motherboards have just as many USB ports overall but what good are they if they require a bracket which takes up a valuable expansion slot? There is also a IEEE 1394 Firewire jack round back for good measure.
SLI motherboards tend to draw a little more power than usual, and so there is an effective warning to that end on the main 24-pin ATX power connector.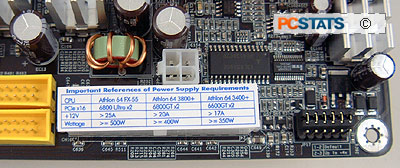 The sticker lists a few different system configurations and states approximately how much power each system will draw in total, and how many amps the 12V rail on your powersupply must be able to deliver.
One of the most important features for overclocking enthusiasts on this board are the memory voltage selector jumpers DFI has placed just above the 24 pin ATX connector. By default, the LANParty NF4 SLI-DR allows for DDR RAM voltages up to 3.2V in the BIOS; good enough for the average overclocker but far too low for the hardcore user. Changing all the jumpers to 2-3 allows the LANParty NF4 SLI-DR to supply memory with up to 4V ! Yes you read that right F-O-U-R volts! There's plenty of CPU and chipset voltage to go around too.