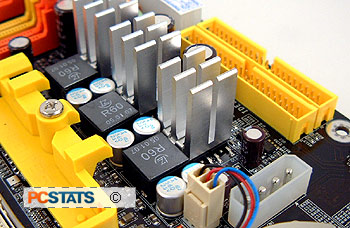 There's little doubt that the LANParty NF4 SLI-DR was built with overclocking in mind. MOSFETs generally do not need additional cooling yet this board has five large aluminum heatsinks set onto them for additional cooling.
Last but not least, look at the BIOS voltage options on the next page; they're the highest we've ever seen. Even when hardcore overclockers voltage mod their motherboards, they often use values lower than those the LANParty NF4 SLI-DR offers at stock!
With all of the above in mind, we did expect some heavy overclocking from this motherboard, so let's get into that now.
Overclocking with DFI
Before we started, we first lowered the processor multiplier to 8x and set the memory to run in 133 MHz mode. Starting at 200 MHz I overclocked like an impatient enthusiast, jumping in 10 MHz intervals (kids, don't do this at home!).
The LANParty NF4 SLI-DR seemed to love overclocking and met my challenge head on. With everything at stock voltage we broke the 300 MHz barrier without any problems! You could say that we were impressed... Continuing on, we ran into a few problems at 320MHz and had to raise the chipset voltage to 1.7V to stabilize it. We also lowered the CPU clock multiplier further to 5x. I don't understand why other sites test motherboard overclocking while keeping a high multiplier. We're supposed to be testing the motherboard right?
We ran into our second snag at 362 MHz; here the memory was starting to flake out and the system would crash back to desktop when running 3D benchmarks. Using the lowest memory setting (1:2) solved this problem. We were then able to pass the 400 MHz mark very easily!
In the end the motherboard topped out at 431 MHz. I have a feeling it could have gone higher if we perhaps had better cooling on the NF4-SLI chipset. The heatsink temperature was around 50 degrees Celsius according to a Fluke 54-II thermometer, which is way too hot.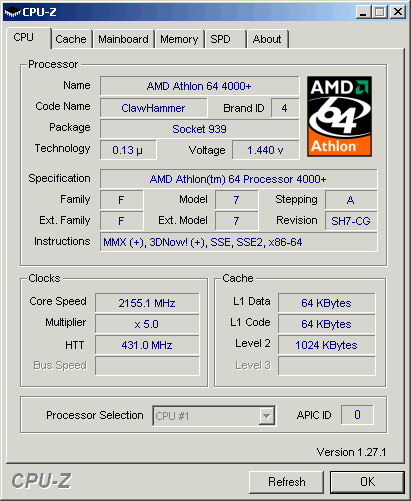 Simply amazing isn't it? Just for fun, I fed some TwinMOS SpeedPremium PC3200 DDR RAM modules 3.8V to see how high they could go at 2-2-2-5, and they reached 294 MHz at 1:1! See, voltage does help out!