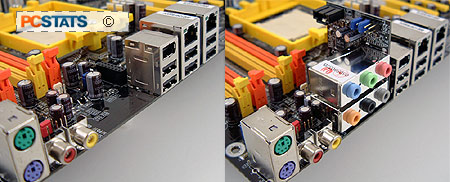 It seems DFI may have run out of real estate when designing the LANParty NF4 SLI-DR. The PCB is extremely crowded, forcing the audio solution to be mounted on a daughter card.
The Karajan 8-channel soundcard (which uses the Realtek ALC850) is based on Intel's Azalia codec. The daughter card connects to the PCB via a 14-pin connector and is held in place with a port holder that snaps into place.
I was a bit concerned that the active heatsink on the NF4-SLI chipset would not be up to the challenge of overclocking. It's quite low profile and the heatsink itself doesn't have a lot of surface area. It runs in utter silence and is able to cool the NF4-SLI well enough to hit... well higher than I've seen any other board go anyway. We'll get to overclocking shortly...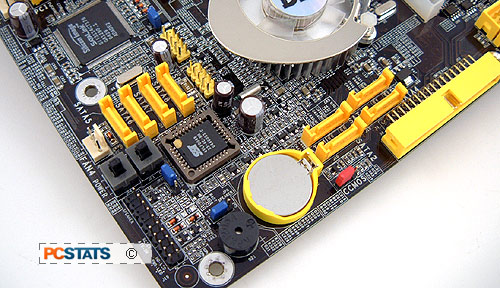 My Only Gripe...
As an experienced overclocker I had absolutely no problems with the DFI LANParty NF4 SLI-DR, but then again I know what I'm doing. Perhaps it's not fair to hold DFI to a higher standard than the rest of the crowd but I would have liked to see DFI include an overclocking manual for novice users.
There aren't really any other manufacturers who do this, but then again very few enable such high voltages that users could potentially destroy their hardware with either. All it takes is for a newbie to set the CPU voltage 20-30% higher than normal with stock/air cooling and poof, that processor will be a fond memory in a short period of time.