nVidia is currently in a position to do something it has not done in a while, and that is dominate a portion of the lucrative mainstream videocard market. The release of its nForce 4 SLI motherboard chipset, coupled with the impressive mid-range performance and effective pricing of their Geforce 6600 and 6600 GT video processors have put nVidia in a position where its products are providing better value for the money than the competition.
The Geforce 6600/6600GT GPU, like its opposite the ATI X700/X700 PRO, offers considerably more for the money than the mainstream cards of previous generations did. While this mainstream nVIDIA GPU only has half the rendering pipelines of its high end counterpart the 6800GT/Ultra, let's remember something; the NV43 still has eight pixel rendering pipelines. This is the same number as the ATI Radeon 9800XT, and twice that of the GeForceFX 5950 Ultra. Both of those cards still perform well in today's tests, meaning that the 6600 GPU is off to a good start.
Today PCstats is testing out nine Geforce 6600 and Geforce 6600 GT based videocards, in both AGP and PCI Express versions. The features of each videocard will be compared, as well as the standard run of gaming benchmarks. SLI benchmarks will be analyzed wherever possible with the overall aim of deciding which of the mainstream graphics cards solutions in this roundup provides the best value for money, whether you are looking for a single mid-range gaming card or a dual-videocard SLI powerhouse.
The nVidia GeForce 6600/6600GT (NV43) core is built on IBM's 0.11 micron manufacturing process and contains 146 million transistors. nVIDIA has cut the number of vertex pipelines from the six found in the GeForce 6800 class cards to three, as we mentioned. To economize further, the memory controller has also been dropped to 128-bit. At high resolutions with AA/AF enabled, Geforce 6600GT cards cannot handle the load as well as their more expensive siblings, but past reviews have shown that 6600-based cards do scale better.
There are two flavours of the NV43 core, the GeForce 6600 and its higher-end sibling, the Geforce 6600GT. Most 'vanilla' Geforce 6600-based cards run at 300 MHz core / 500 MHz memory, while most 6600GT's are clocked a little higher; 500MHz core and 1000MHz memory. All nVidia Geforce 6600-based cards support DirectX 9.0C effects as well as nVIDIA's Shader Model 3.0. More importantly, the 6600GT and some 6600 cards also support SLI.
Now let's take a close look at each of our contenders in some detail, before getting into the benchmarks.

The Geforce 6600/GT Videocards

Manufacturer and model

Videocard
GPU
Memory
GPU clock
Memory clock
SLI compatible
VIVO features
Additional power required

Maximum overclock
core
/ memory

Price
- PCI Express x16 Videocards -
Gigabyte GVNX66T128D Geforce 6600GT

nVidia Geforce 6600GT
128MB
500MHz
1000MHz
YES
NO
NO
568MHz
/ 1070MHz
$227 CDN ($184 US)
Gigabyte GV-3D1
nVidia Geforce 6600GT x2
128MB x2
500MHz
1120MHz
YES*
NO
YES

519MHz
/ 1230MHZ
(Non-SLI only)

$615 CDN ($499 US)***
MSI NX6600GT-TD128E
nVidia Geforce 6600GT
128MB
500MHz
1000MHz
YES
NO
NO
564MHz
/ 1130MHz
$227 CDN ($184 US)
Albatron Trinity GeForce 6600
nVidia Geforce 6600
128MB
306MHz
500MHz
NO
NO
NO
437MHz
/ 537MHz
$140 CDN ($114 US)
Albatron Trinity GeForce PC6600U
nVidia Geforce 6600
128MB
400MHz
700MHz
YES**
NO
NO
514MHz
/ 743MHz
$250CAD ($200US)
Asus Extreme N6600TOP/TD
/128M/A
nVidia Geforce 6600
128MB
400MHz
900MHz
YES**
NO
NO
623MHz
/ 1030MHz
UNKNOWN
- AGP 8X Videocards -
Albatron Trinity GeForce 6600GT AGP

nVidia Geforce 6600GT
128MB
500MHz
1000MHz
NO
NO
YES
578/1073MHz
$270 CDN ($219 US)
MSI NX6600GT-VTD128SP
nVidia Geforce 6600GT
128MB
500MHz
1000MHz
NO
YES
YES
601/1075MHz
$250 CDN ($200US)
MSI NX6600GT-VTD128 AGP

nVidia Geforce 6600GT
128MB
500MHz
900MHz
NO
YES
YES
581/1083MHz
$264 CDN ($214 US)
*As this card uses two GPUs onboard, it is not externally SLI compatible
**This card has an SLI connector, though 6600GPUs are not officially SLI compatible.
***Price includes Gigabyte K8NXP-SLI motherboard
Geforce 6600GT and SLI
nVidia's new SLI (Scaleable Link Interface) technology is used to link two PCI Express nVidia-based cards together, splitting the rendering load between them to increase 3D performance. The technology requires a pair of compatible PCI Express x16 videocards with SLI connectors (which must be implemented by the video card manufacturer) and an Nforce 4 SLI chipset-based motherboard.
The nVidia Nforce 4 SLI solution provides two physical PCI Express x16 video slots, and uses a switch to divert 8 PCI Express data lanes to serve each slot.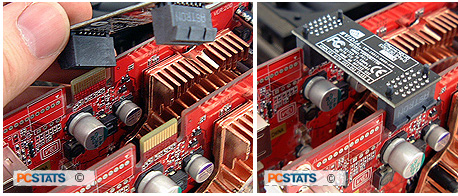 A single card can also be used in either slot, and in this case the full 16 PCI Express lanes are available. In a typical SLI solution, the cards themselves are also linked by way of an SLI bridge or cable attached to the special MIO 'video bus' connector on the top of each card.
Nvidia's SLI works by allowing the two graphical processors to share the rendering workload, governed by the Nvidia Detonator software drivers. The CPU passes all neccessary 3D information to the 'primary' GPU, which then shares the information with the second card via the video bus interface cable. The video bus link itself apparently runs at up to 10GB/s, though we doubt that this bandwidth is fully utilized.
Currently, the only official nVidia SLI-compatible video processors are the Geforce 6600GT, 6800, 6800GT and 6800 Ultra, though we have reviewed 6600-based cards that also had the connector. The graphical processors in each video card must be identical, as must the video BIOS revisions, though the cards can run at separate speeds (the SLI system will assume the lowest clock speeds for both cards). This means that it is going to be pretty much essential to have two identical cards from the same manufacturer to get SLI working correctly.