Doom 3 is the most advanced game to date. it takes advantage of the latest videocard technology and pushes the processing power of the CPU to its absolute limit. At its highest setting, Ultra quality, texture sizes pass the 500MB mark which means even tomorrow's videocards will have a hard time running everything. The frame rates in the game itself are locked at 60 fps so anything above that point is wasted. Each test is run three times with the third run being recorded.
Doom3
LQ 640x480:
FPS
Ranking
Foxconn 955X7AA-8EKRS2 (955X 200/667)
96.9
Foxconn 945P7AA-8EKRS2 (945P 200/667)
94.3
MSI P4N Diamond (NF4 SLI 200/800)
97.3
Epox 5NVA+ SLI (NF4 SLI 200/800)
96.2
Foxconn NF4SLI7AA-8EKRS2 (NF4 SLI 200/800)
95.9
AOpen i945Ga-PHS (945G 200/667 Onboard Video)
15.5
AOpen i945Ga-PHS (945G 200/667 7800 GTX)
91.1
Shuttle XPC SD11G5 (i915GM 133/533 Onboard Video)
5.4
Shuttle XPC SD11G5 (i915GM 133/533 GeForce 7800GTX)
117.6
There is no doubt which system is fastest in Doom 3, that's the Shuttle XPC SD11G5! The Doom 3 benchmark results are quite remarkable and underscore the architectural differences between the Pentium M and the desktop Pentium 4 processors.
Silent, but deadly!
The brand spanking new Shuttle XPC SD11G5 small form factor PC is very different from its miniaturized brethren, it is based on a mobile CPU. This makes the Shuttle SD11G5 a perfect candidate for environments that require low noise computing. The Intel Pentium M processor does not generate much heat, which in turn mean that it does not require substantial cooling devices.
In our experiences with the Shuttle XPC SD11G5, we found that it was very easy to work with and extremely quiet. The external power supply is an interesting design choice that off-loads a lot of the heat to outside the system. The 7-foot long DC power cord connects the Shuttle XPC SD11G5 to its power source with reasonable slack that the power brick can lie on the floor, and the SD11G5 on the desktop.

This solution also removes one of the two sources of noise from the computer, as there is no power supply fan. Processor and case cooling are centralized with one lower noise fan, so that both the 1.73 GHz Pentium M 740 CPU and the internal case components are cooled from the same location. Further features like vibration isolating case feet reduce the impact of noise from the optical drive. Case vents are located on the side and bottom of the computer for effective airflow.
The most unique feature of the Shuttle XPC SD11G5 is its external power supply. The 220W Delta PSU can be passively cooled so there are no sources of noise from it. Gamers who are concerned about power requirements for high end videocards can rest easy on the knowledge that in our test environment we experienced no power related difficulties running a 74GB WD Raptor HDD and MSI GeForce 7800GTX videocard on the 220W Delta PSU.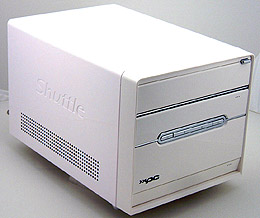 In terms of performance, the Shuttle XPC SD11G5 small form factor PC is no slouch. Looking at the benchmark numbers, it is clear that the SD11G5 has no problems keeping up with Intel's best desktop systems. In fact, the little SFF PC kept up with desktop Intel 955X and nVIDIA nForce4 Intel Edition SLI motherboards equipped with a dual core 3.2GHz Pentium D 840 CPU quite easily. In most office based tests like SYSmark 2004 and Business Winstone 2004, the Shuttle XPC SD11G5 performed on par when equipped with a 1.73 GHz Pentium M 740 CPU.
The Shuttle XPC SD11G5's 3D performance with a stand alone videocard was even more impressive, and underscores the benefits of running a silent PC on a mobile Pentium M processor. Onboard graphics is sufficient for 2D workstation use, but the Intel GMA900 is dramatically underpowered for today's games.
experts tip: quiet things down further

the shuttle xpc sd11g5 is already a quiet pc, but we have a tip to dampen vibrations even further for only a few pennies. pick up a few thin rubber washers from your local hardware store and place them between the drives and aluminum drive cage. the washers will absorb some of the vibrations that the drives produce, and diminish the amount transferred to the rest of the computer. you can also cut out a two thin strips of motherboard foam and place it between the drive cage and chassis, before screwing the rack down. or another alternative is to simply install a hard drive like the western digital caviar se jd series which are known to be very quiet.

Comments and Feedback? Suggest a Tweak.
The Shuttle XPC SD11G5's biggest strength is the fact that it's virtually silent during operation. In PCSTATS test configuration, vibrations from the videocard fan and hard drive were kept to a minimum by way of the vibration dampening rubber case feet. The system was essentially silent in our tests, but hard drive and videocard sounds were audible. Users can further decrease the amount of sound coming from the Shuttle XPC SD11G5 by choosing quieter components than we tested it with (we chose the 74GB WD Raptor & Geforce 7800GTX for their performance characteristics), or by adding sound absorbing materials to the available space inside the case.
With a retail price of $495 CDN ($427 US), the Shuttle XPC SD11G5 small form factor PC is priced at a premium when held up against traditional SFF PC's based on desktop processors. However, given the amount of noise it produces and performance of the system and its Pentium M processor, we are thoroughly impressed.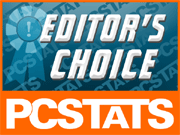 Find out about this and many other reviews by joining the Weekly PCstats.com Newsletter today! Catch all of PCstats latest hardware reviews right here.
Related Articles
Here are a few other articles that you might enjoy as well...
1. AOpen EX915 XCube SFF PC Review
2. AOpen EZ65 XCcube SFF PC Review
3. MSI Hermes 650-P Barebones System Review
4. MSI Metis 266 Slim PC System Review
5. Shuttle SS50 Pentium 4 Cube System Review