There is enough space around the PCI Express x16 slot to install a full length videocard, like a Geforce 7800GTX for example. As long as the videocard heatsink is not more than one slot thick, the Shuttle XPC SD11G5 is very accommodating to mainstream and high end PCI Express x16 graphic cards alike!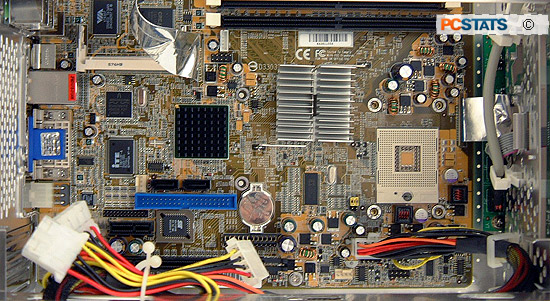 Shuttle has even been gracious enough to build the XPC SD11G5 with a 6-pin videocard auxiliary power connector coming out of the cable bundle right where the graphics card installs.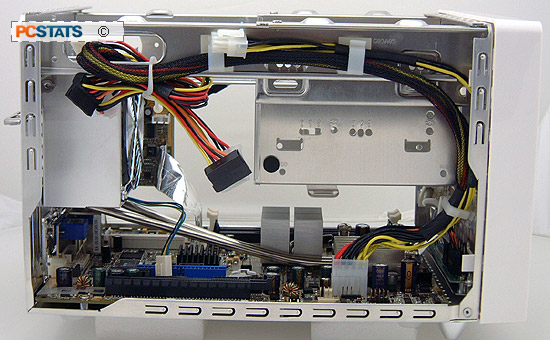 We should note that in addition to the 6-pin videocard power cable there are (2) SATA power connectors and (3) four-pin molex power connectors. There is also one additional 4-pin fan header up for grabs on the motherboard.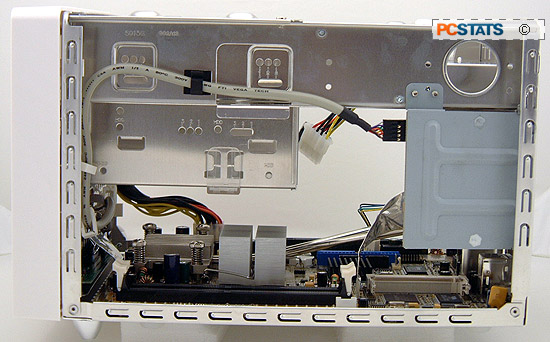 Shuttle's most innovative approach with the XPC SD11G5 was to remove the power supply from within the small form factor computer and use a large external power brick to deliver DC power to the PC. We'll look at this component next...
An External Power Supply!?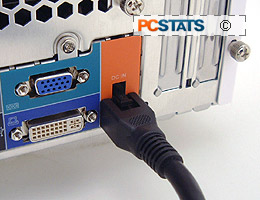 The benefit of having the computers's power supply located outside of the computer is that it frees up a lot of space within the chassis, for starters. This arrangement also removes the heat that would otherwise be generated by the power supply from the system, and allows for a more centralized cooling system for the processor and internal case components.
The standard solution would otherwise be to have a heatsink and fan for the CPU, and a fan mounted at the rear of the chassis to exhaust hot air from the case itself.
The external 220W Delta PX46X220D power supply measures 20 x 10 x 4 cm in size, and connects to the Shuttle XPC SD11G5 PC via a special six-pin 12V DC (18A) power connector.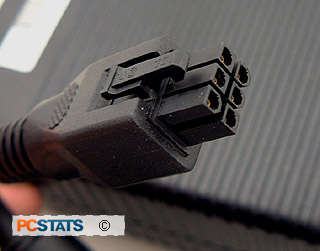 The 6-pin connector is similar to the kind that are used with high end videocards, but is keyed differently so users cannot plug it into a videocard. The DC power cable coming from the external power brick is 7' (225 cm) in length.
The 220W wattage rating of the external power supply is entirely sufficient for the Shuttle XPC SD11G5 and all the components it can possibly contain. In the PCSTATS labs, the power supply had no difficulty supporting a test configuration which consisted of a Intel Pentium M 1.73 GHz processor, 74GB WD Raptor hard drive and a MSI GeForce 7800GTX videocard!
Furthermore, because the XPC SD11G5 system is based on a mobile processor power requirements are not directly comparable to what you would expect with a full sized desktop system. The external power supply accepts 100-240V, 50-60Hz inputs so it can be used anywhere in the world with the right plug adaptor.
Next up we take a look at some of the low noise options in the BIOS that can help you run the computer silent as night...