The front of the Shuttle XPC SD11G5 case is very clean and users who do not like a lot of fuss will appreciate the clean lines. The silver button at the top right controls the optical drive eject button. The sensitivity of the button can be adjusted on the inside by sliding over a little tab so that it aligns with the eject button of the CD-ROM drive. Be sure to make the necessary adjustments before installing the optical drive though.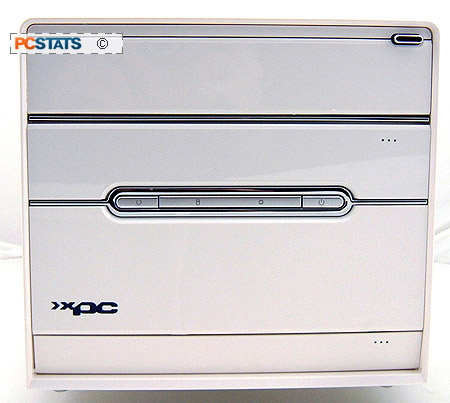 Pressing the three dots on the middle flap exposes the open 3-1/2" drive bay, which is intended to be used with other Shuttle accessories like a memory card reader (the XPC SD11G5 does not support a FDD).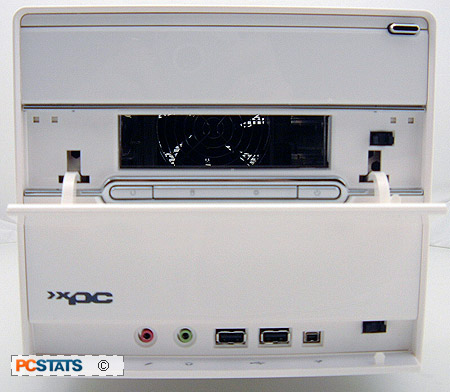 The middle grey bar has two buttons on opposite sides, one for power and the other for resetting the computer. There are two LEDs in the middle section which show when the computer has power and HDD activity. Opening up the bottom flap on the front bezel exposes the front panel media connections. Starting from left we have the mic/headphone jacks, two USB ports and a miniature IEEE 1394a Firewire 400 connector.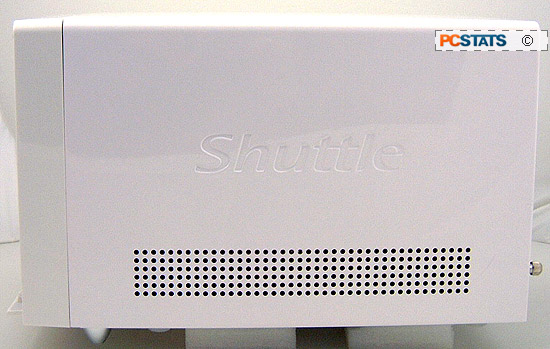 The sides of the Shuttle XPC SD11G5 are entirely plain, there is the Shuttle name indented into the side panel as well as ventilation holes. The shell and front bezel are a very slightly different shade of white.