There are a limitless number of inventions waiting to be thought of, people just need to spend some time dreaming. Shuttle went from a small, mainly OEM focused Taiwanese motherboard manufacturer to powerhouse thanks to its engineers ability to think unconventionally. The company said goodbye to motherboards and shifted its focus onto small form factor computers. Since that transition, the small form factor marketplace has exploded, and Shuttle is continuing to release some rather interesting products.
Most recently, Shuttle introduced a line of SFF PCs that rely on the kind of CPU made expressly for notebooks. The mobile Intel Pentium M processor combines excellent performance characteristics with low power consumption and low heat output. When faced with the noise levels inherent to desktop processor cooling systems, the 479-pin Intel Pentium M makes a perfect low noise alternative for such a compact application as a SFF PC is.
The relatively low clock speeds of Intel Pentium M processors, as compared to Intel desktop chips, can seem substantial if we just look at the numbers; 1.73GHz vs. 3.2GHz doesn't seem like a fair fight now does it? However, even though Pentium M CPUs all run at lower clock speeds than their desktop counterparts, they are just as powerful as top of the line Pentium 4 chips. The reason's simple - Pentium M's do more work per clock cycle than Pentium 4's do. That means a Pentium M processor does not need to clocked as high, to realize identical performance levels.
In this review, PCSTATS will be testing a bare bones small form factor PC that Shuttle Inc. has produced. As you'll see, low noise operation is a priority, but not at the expense of computing performance. To reach this happy equilibrium, the Shuttle XPC SD11G5 is powered by a mobile Intel Pentium M processor (not included).

Shuttle XPC SD11G5 Small Form Factor PC






Includes:

User's Guide, External Power Supply, Ultra/133 IDE Cable, Serial ATA Cable, Screws & Feet, Driver CD, Software CD, S-Video to Composite Converter.



Technically speaking, the Shuttle XPC SD11G5 SFF PC is based around the Intel 915GM and Intel ICH6M chipsets, and it supports socket 479 Intel Celeron M and Pentium M processors that operate with a 400MHz or 533MHz Front Side Bus (FSB). Owing to the small size of small form factor PCs, there just two DDR-2 memory slots within the Shuttle XPC SD11G5, so it can support a maximum of 2GB of unbuffered 240-pin DDR2-667 memory.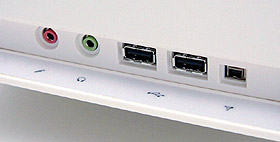 Onboard goodies consist of a hardware 7.1 Creative Sound Blaster Live! 24-bit sound card, a Gigabit Broadcom BCM5789 network card that runs through the PCI Express x1 bus, IEEE 1394a Firewire 400 and of course an onboard Intel GMA900 videocard (with both analog and DVI connections) care of the i915GM chipset.
For an SFF PC, the Shuttle XPC SD11G5 is very well equipped right out of the box. Expansion options fall completely in the realm of PCI Express based devices; there is no support for PCI or AGP cards.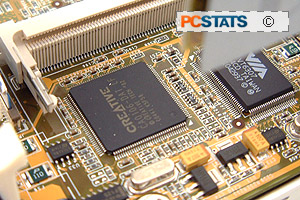 What is available are a PCI Express x1 and PCI Express x16 slot (it will happily accept a single-slot-wide graphics card). There is one Ultra/133 IDE channel, and two Serial ATA II headers.
Shuttle's SFF PC designs have always had a contemporary look, and the white XPC SD11G5 would fit in will in any environment. It stands on four soft rubber feet that keep it firmly in place and prevent any scratching of desk surfaces.
After taking the Shuttle XPC SD11G5 out of the box, the first impression is that the unit is extremely light! It's almost entirely constructed from aluminum, so the bare bones unit weighs in at just 2.25 kg.
The primary reason for this is because the Shuttle XPC SD11G5 uses an external power supply, as opposed to an internal one like most SFF PCs will have.