Within the BIOS of the Shuttle XPC SD11G5 there are a decent number of memory adjustment options, and onboard video configurations. Memory specific options include CAS latency, RAS to CAS, RAS precharge and memory frequency.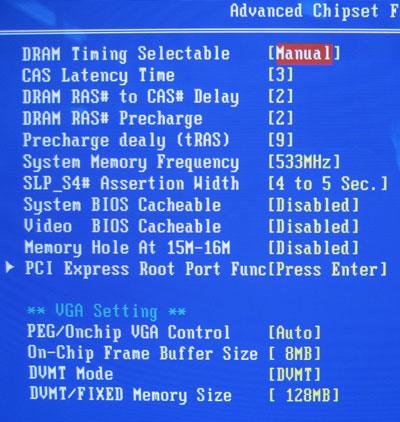 Users can also adjust onboard video features, choose between onboard or PCI Express videocards (but not at the same time), memory size and video out mode (digital or analog).

In the Frequency Control section the FSB can be adjusted between 133-165 MHz, in 1 MHz increments. There are no other features for overclocking. Under the PC Health Status portion of the BIOS, users can select between smart fan, noise control-ultra, noise control-low, noise control-mid, or noise control-full. We recommend leaving it at the default setting; 'smart fan.'
experts tip: bios settings and noise levels

if you know where to look on the shuttle.com website you can find an acoustic test report for the xpc sd11g5 small form factor pc. because the fan settings within the bios use general terminology to describe quiet vs. ultra quiet options, it's hard to know what level of noise to expect with each option. Here's the breakdown in Decibels as it relates to each choice under the 'Advanced CPU Fan Setting' tab:

Smart Fan: 24.5 dBA
Noise Control-Ultra: 23.5 dBA
Noise Control-Low: 23.9 dBA
Noise Control-Mid: 29.4 dBA
Noise Control-Full: 43.8 dBA

The acoustic test procedure Shuttle applied measures noise levels from a 50cm distance away from the XPC SD11G5 according to ISO 7779 standards.
Comments and Feedback? Suggest a Tweak.
Silent Overclocking?

Overclocking Results:
Bearing in mind that the Shuttle XPC SD11G5 is engineered for quiet operation, the BIOS options that anyone interested in overclocking would need are rather limited.
The only way to overclock the XPC SD11G5 is to increase the motherboard FSB up from a stock speed of 133 MHz (the FSB is 133 MHz, the bus speed of the processor is 533 MHz). The Intel Pentium M 740 processor has a default clock speed of 1.73 GHz and it uses a 13x multiplier. There are no voltage options in the BIOS, so overclocking the Pentium M 740 and Shuttle XPC SD11G5 will be a little challenging.
Starting at 133 MHz, the FSB was increased in 2-3 MHz intervals all the way up to 155 MHz before stability began to be an issue... And that was as far we were able to overclock. Pentium M processors can overclock in certain situations very well, but that is really not the point of the Shuttle XPc SD11G5.
The Shuttle XPC SD11G5 and its Pentium M 740 takes on desktop motherboards equipped with the Pentium D 840 next... Can a mobile chip take the heat?