How do you make a high end motherboard stand out from the competition? Easy, start integrating even higher quality components onto it. For instance a manufacturer can integrate a PCI-based Gigabit network card or go with a PCI Express based network card. One route potentially creates bus/bandwidth problems while the other (albeit more expensive) gives the network card its own dedicated pipeline.
MSI Computer has taken the next step and is starting to integrate its motherboards with higher quality hardware based Creative Audigy sound cards. While the average software solution is okay for audio and simple office tasks, many gamers simply need something better. Whether it's to free up system resources, or tackle that latest audio gaming technology, getting a new sound card is often near the top of things to do.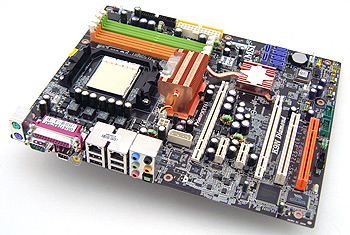 The MSI K9N Diamond motherboard is one of the more attractive nVIDIA nForce 590 SLI motherboards on the market. It's got everything the other boards have, and really shines with its Creative Labs SoundBlaster Audigy SE onto the PCB. Other hardware goodies include dual Gigabit network cards and IEEE 1394a. Expansion is possible through the two PCI Express x16, two PCI Express x1 and two 32 bit PCI slots. nVidia SLi is supported.
The MSI K9N Diamond motherboard itself is a breeze to work with, and we particularly like the Clear CMOS button. It would have been nice to have an eSATA port at the rear I/O, but none are provided (nor a eSATA bracket for that matter!). MSI has always built fast motherboards and the K9N Diamond is no exception.
It had no problems keeping up with boards like the Asus M2-CROSSHAIR or Foxconn C51XEM2AA in tests like SYSMark2004, 3DMark05 or Quake 4. The MSI K9N Diamond is so quick that it would often fight for top spot overall, of course the difference between all Socket AM2 motherboards is sliver thin... due to the excellent consistency of all chipsets.
The MSI K9N Diamond also has a pretty sweet wild side, overclocking to a blistering 325 MHz in our tests. MSI is a fan favorite here and for good reasons. Its motherboards continually impress in terms of features, performance and price. The K9N Diamond tested here today retails for $200 CDN ($175 US, £94 GBP). Considering all the K9N Diamond has and can do, that's a steal.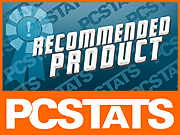 Find out about this and many other reviews by joining the Weekly PCstats.com Newsletter today! Catch all of PCSTATS latest reviews right here.
Related Articles
Here are a few other articles that you might enjoy as well...
- ABIT FATAL1TY AN9 32X nForce 590 SLI Motherboard Review
- Biostar P4M890-M7 VIA P4M890 Core 2 Duo Motherboard Review
- Albatron KI51PV-754 Mini-ITX Motherboard Review
- MSI P965 Platinum Intel Core 2 Duo Motherboard Review
- MSI 975X Platinum Motherboard Review
- Gigabyte GA-945PL-S3 945PL Express Motherboard Review
- Gigabyte GA-8I945GZME-RH 945GZ Express Motherboard Review