After quickly scanning though the lists of high end motherboards you'll probably come to the conclusion that most boards are pretty similar feature wise. By that I mean most Socket AM2 motherboards have 7.1 channel audio, single or dual Gigabit network jacks, Firewire, Serial ATA and some form of RAID support... What separates one motherboard from the next are the subtilties, benchmark results to a lesser extent, and price. MSI has gone to great lengths to distinguish its K9N Diamond motherboard, and selecting a Creative Audigy sound card goes a long way in that regard.
The Intel Azalia compatible software sound card is much better than what came before it, but there's still the issue of relatively high CPU utilization with a software based codec. Whether you're trying out that new Battlefield 2142 demo or watching a movie, having more free system resources for background tasks is always a good measure. Hardware-based sound cards handle all the processing themselves, rather than off loading it to the processor.
MSI Computer addressed this sometime issue by integrating a Creative Audigy 7.1 channel hardware sound card into a few of its latest motherboard models. If you're a gamer, multimedia enthusiast, or future indie rock star mixing tracks for your debute CD, the MSI K9N Diamond is a board well worth your attention. Best of all, the K9N Diamond doesn't cost any more than comparable nVIDIA nForce 590 SLI motherboards!
The MSI K9N Diamond retails for $200 CDN ($175 US, £94 GBP) which is about right. The platform supports all Socket AM2 processors from the AMD Athlon64/X2/FX to Sempron series. Its four DDR2 memory slots can handle 8GB of DDR2-800 unbuffered non-ECC RAM.

MSI K9N Diamond Motherboard



Includes:

User's Manual, Quick Installation Guide, Motherboard Driver CD, Audigy Driver CD, Rounded Ultra/133 IDE Cable, Rounded Floppy Cable, 6x Serial ATA Cables, 3x Molex to Serial ATA Power Cables, USB Bracket, IEEE 1394 Bracket, SLI Bridge, SLI Bridge Secure Bracket, I/O Shield
Standard onboard equipment includes dual Gigabit Ethernet network jacks, a Soundblaster Audigy SE 7.1 sound card, IEEE 1394a 400Mpbs Firewire and USB2.0. When it comes to peripheral expansion we find two PCI Express x1 slots for high bandwidth devices, a 32 bit PCI slot, and the two PCI Express x16 SLI compatible slots for videocards (each with a full 16 PCI Express lanes). Data storage is supported by one Ultra 133 IDE channel and six 3GB/s SATA II ports. Nvidia RAID (0/1/0+1/5/JBOD) comes standard with the nForce 590 SLI chipset. There are four USB2.0 jacks at the back of the board, three USB2.0 headers (for six additional jacks) and two IEEE1394 headers.
Like most high end motherboards, the MSI K9N Diamond is full-ATX (305 x 245 mm) in size. All ports, headers and the front I/O pins are located towards the edge of the motherboard. This is nice and makes connecting things easier. The main ATX, floppy and IDE cable connectors are located to the right of the four dual channel memory DIMM slots where they do not interfere with other system devices or disrupt airflow.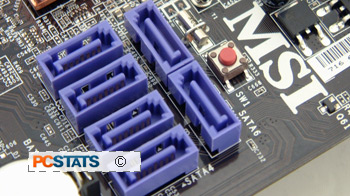 The Socket AM2 AMD processor connects to the C51XE Northbridge via a 1 GHz HyperTransport connection. The dual Gigabit network cards each have their own special connections to the Southbridge so bandwidth with the PCI bus isn't affected.
The layout of the MSI K9N Diamond is quite easy to work with, and enthusiasts will especially appreciate the low profile southbridge heatsink.
To make things easier during system reboots, there is even a red Clear CMOS button right next to the six Serial ATA jacks.
With nVIDIA releasing a PCI Express x8 physics card in the near future, we were a bit surprised to see that MSI did not opts for a PCI Express x8 slot on this board. The MCP55PXE Southbridge supports this slot by default, and it would have been more useful than a PCI or PCI Express x1 slot.
PCSTATS will get into the Creative Audigy sound system, and several other features of the MSI K9N Diamond next that will make you want to push this board to the limit!