Overclocking Results:
MSI has an excellent reputation for overclocking and PCSTATS was certainly looking for some big numbers from the MSI K9N Diamond! Before the overclocking began, the AMD Athlon64 X2 5000+ multiplier was first lowered to 8x, the Corsair Twin2X2048-6400C3 memory set to run at 533 MHz mode.
Starting at 200 MHz the motherboard clock speed was slowly increased in 3-5 MHz intervals. The MSI K9N Diamond overclocked pretty well from the get-go, reaching 245 MHz before the HyperTransport bus started to give the motherboard booting issues.
Lowering the Hypertransport bus to run at 800 MHz mode solved that issue, and we were able to push the board some more.
After the little HyperTransport tweak, the MSI K9N Diamond motherboard easily passed 300 MHz. It still had plenty to go and the motherboard topped out at a very sweet 325 MHz. Anything higher and the board started to BSOD while loading WindowsXP, lowering the HyperTransport speed further or increasing voltages didn't seem to help the situation. A couple other tricks proved fruitless too, so we settled on a 200MHz to 325MHz overclock from the MSI K9N Diamond.
A Tweakers BIOS?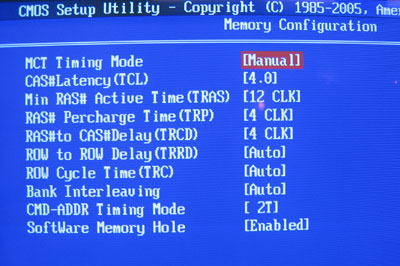 In the memory configuration section we have the usual memory timing adjustments for a high end motherboard. From CAS Latency adjustments to RAS-to-CAS, Row Precharge and Command Rate, all the standard tweaks are here.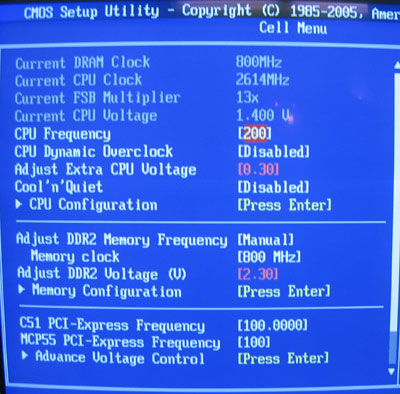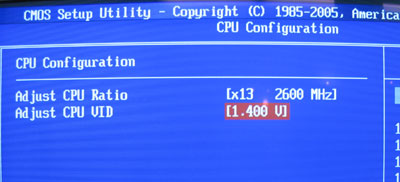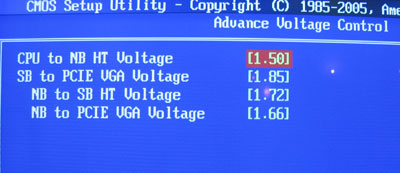 The MSI K9N Diamond motherboard frequency can be adjusted between 200-500 MHz. The processor voltage goes as high as 1.7V, memory to 2.3V, and there are also various other voltage adjustments to pick and choose from. Clock multiplier options are available depending on your processor. It is possible to adjust the frequency of the memory too.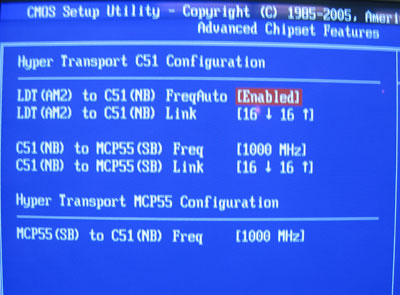 In the Advanced Chipset Features for the MSI K9N Diamond BIOS we find HyperTransport width and frequency options, for between the processor and Northbridge and between the Northbridge/Southbridge chipsets.
The gaming and office oriented benchmarks are up next!