Abstract: If you're a gamer, multimedia enthusiast, or future indie rock star mixing tracks for your debute CD, the MSI K9N Diamond is a board well worth your attention.


80% Rating:

Home > Reviews > Motherboards > MSI K9N Diamond
MSI K9N Diamond Motherboard Highlight
The MSI K9N Diamond motherboard has a lot of the features you would expect from an enthusiast-class nForce 590 SLI based board. Some of the most significant highlights of the K9N Diamond are noted below.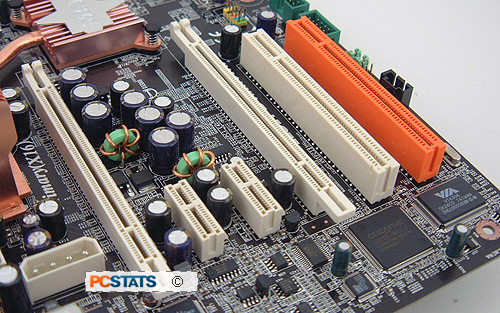 With two full slots between each of the PCI Express x16 videocard slots, the MSI K9N Diamond motherboard is pure SLI gaming bliss when fully loaded. The top molex power connect is needed when running SLI. If you don't, you could end up with stability problems. If you have a bus mastering PCI device, insert it into the orange slot at the bottom. Further expansion comes care of two PCI Express x1 and two PCI slots.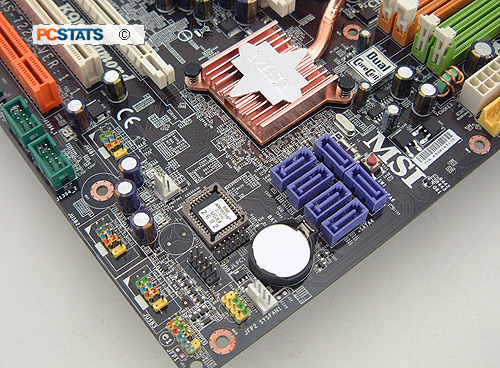 MSIs K9N Diamond has six 3GB/s SATA II headers all neatly aligned in one area. There are three USB2.0 and two Firewire headers, various front panel connections, four fan headers, and the red button resets the CMOS. The SATA hard drives can be configured in RAID 1/0/5/0+1/JBOD, but only one Ultra 133 IDE header. The MCP55XE southbridge is cooled with a low profile copper and aluminum heatsink that employs a heatpipe.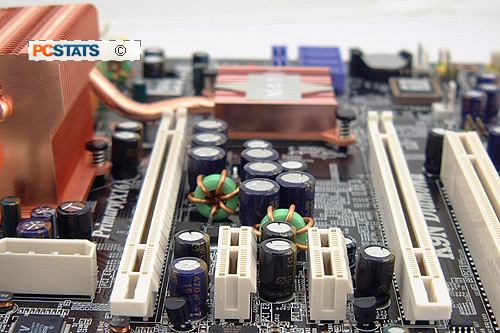 MSI does not equip its PCI Express x16 slots with locks, so take care when transporting your computer to a LAN party. Before starting the system up, pop open the side cover and make sure your videocards are seated properly. There is two slots of space between the PCI Express x16 slots so rigging SLI with dual-slot videocards won't cause problems. The nForce 590 SLI chipset heatsink is well spaced away from the primary PCI Express videocard.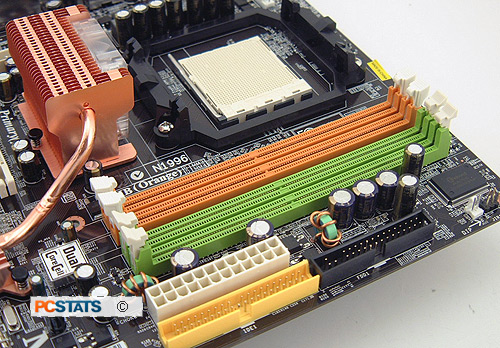 As much as 8GB DDR2-800 memory can be installed into the dual channel ready MSI K9N Diamond motherboard. The socket AM2 AMD Athlon64 motherboard is compatible with older ATX 1.4 (20 pin) power supplies, just make sure you have enough power on the 12V linen to go around. One IDE channel is provided, pity. The CPU fan header is PWM compliant.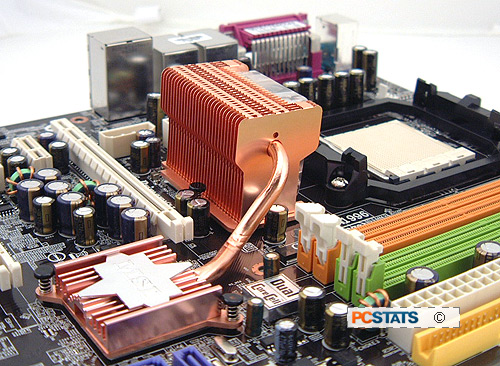 The MCP55PXE Southbridge's heatsink has a heatpipe connecting it to the large heatsink on the C51XE Northbridge. A small 40mm fan blows air through the copper fins towards the rear of the first videocard to enhance cooling. In general this system works very well. During testing neither heatsink was hot to the touch. There is enough clarence for videocards with larger coolers here.
The MSI K9N SLI Platinum is compatible with socket AM2 PWM style heatsink fans.