If you're a gamer, multimedia enthusiast, or future indie rock star mixing tracks for your debute CD, the MSI K9N Diamond is a board well worth your attention.


80% Rating:

Home > Reviews > Motherboards > MSI K9N Diamond
Flagship AM2 Chipset - nForce 590 SLI
The flagship nVIDIA nForce 590 SLI chipset is aimed directly at the enthusiast market. If you want the best, this chipset is your only alternative for an AM2-based system unit VIA or SIS get their act together. If you are already familiar with what the nForce 590 has to offer, feel free to jump ahead to the next page of this MSI K9N Diamond motherboard review. nVIDIA breaks the nForce 590 SLI down into two chipsets, the C51XE Northbridge which is built on TSMC's 90nm manufacturing, and the MCP55PXE which is manufactured on TSMC's 140nm manufacturing.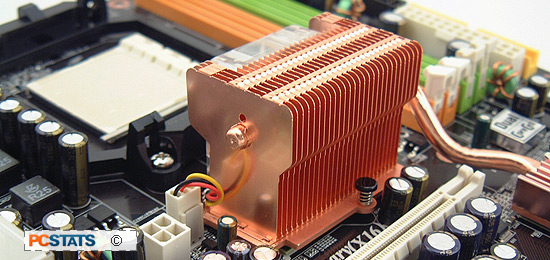 The nVIDIA nForce 590 SLI chipsets have a total of 46 PCI Express lanes available, and these are divided into 9 links. The C51XE SPP Northbridge supplies one PCI Express x16 link while it's the MCP55PXE that has the rest of the PCI Express lanes. The MCP55PXE also supports one PCI Express x16 link, which means users get full videocard bandwidth when running two nVIDIA videocards in SLI.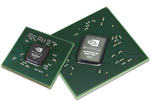 The MCP Southbridge has a PCI Express x8 link and six PCI Express x1 links, depending on what the motherboard vendor decides to implement. Whichever way you slice it, there's plenty of high bandwidth PCI Express lanes to go around! The nVidia MCP55PXE Southbridge is definitely the workhorse of the two, and it boasts a whole host of other features as well. The Southbridge handles up to 5 bus mastering PCI slots, but again it's up to the motherboard manufacturer to decide how many PCI slots to equip on a motherboard. There is a direct link to the Southbridge for two Gigabit Ethernet connections, and these will include nVIDIA's DualNet technology of course.
nVidia nForce 500 Series Feature Breakdown
nVidia nForce 590 SLI
CPU
940-pin Socket AM2
nVida SLI Support
Yes, (2 x16)
nVidia LinkBoost
Yes
nVidia FirstPacket
Yes
nVidia DualNet
Yes
Native Gigabit Ethernet
2
Teaming
Yes
TCP/IP Acceleration
Yes
nVidia MediaShield Storage
Yes
SATA/IDE HDD
6/2
SATA Speed
3Gb/s
RAID
0, 1, 0+1, 5
nVidia nTune Utility
Yes
PCI Express Lanes
46 lanes
USB Ports
10
PCI Slots
5
Audio
High Definition Audio (Azalia)
nForce 590 SLI Assorted Technologies
nVIDIA has upgraded the integrated audio solution to include Intel's High Definition Audio Azalia standard. In the case of the MSI K9N Diamond though, MSI has decided to go with a Creative SoundBlaster Audigy SE hardware sound card instead. With Serial ATA going the way it is, there is only one IDE channels integrated now. To balance out storage requirements, the number of Serial ATA II (3Gbps) ports has been increased to six. Continuing on the hard drive front, nVIDIA's Serial ATA II channels adhere to the Serial ATA 2.0 spec and support RAID mode 0, 1, 0+1 and 5.
nVIDIA DualNet technology looks very interesting, and what it does is basically give the user greater control over network processes. All high end and mainstream nVIDIA chipsets will now by default support two Gigabit connections. Users can combine the two connections for more bandwidth, and there is hardware TCP/IP Acceleration which lowers CPU utilization. Another very cool feature is nVIDIA's FirstPacket Technology which allows you to prioritize network traffic. So for example, if you are a gamer that tends to do multiple things while you're online, you can prioritize your game traffic so that ping times are not affected by the other processes going on in the background.
When the nVIDIA nForce 590 SLI chipset is equipped with GeForce 7900GTX class or higher videocards, the chipset will automatically activate the nVidia LinkBoost technology. LinkBoost increases the PCI Express x16 buses to the videocard by 25%, and it also does the same for the HyperTransport link between the North and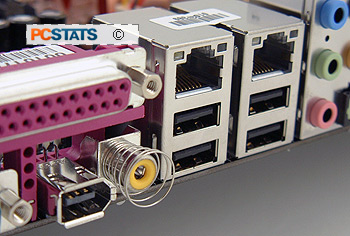 Southbridge chipsets. While increasing the bandwidth PCI Express bandwidth to GeForce 7900GTX might be a bit redundant, future generation videocards should see a nice gain from this setting.
On the memory front, the nVidia 590 SLI chipset introduces something called the Enhanced Performance Profiles or EPP. This is an open memory standard put forth by Corsair and nVIDIA which takes over where JEDEC's SPD leaves off. As the Enhanced Performance Profiles description implies, it adds performance profiles to the memory SPD in addition to the conservative compatibility settings already programmed in. EPP compliant memory is dubbed "SLI Ready" memory on nVidia platforms (great marketing on nVIDIA's part) and allows the system to dynamically tighten up memory timings and increase voltages for better performance with no fuss. Whether you're a novice or experienced computer user, the benefits of EPP are immediate. Corsair is the initial memory manufacturer out the door with this new technology but others are already following suit.
Finally nVIDIA has greatly upgraded its nTune software which allow users more control over their systems. Realistically with nTune, there is no longer a need to go into the BIOS to adjust settings, now you can do everything within WindowsXP!Next up, highlights of the MSI K9N Diamond motherboard.