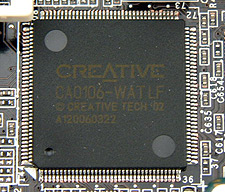 The most unique feature of the MSI K9N Diamond is that it includes an integrated SoundBlaster Audigy SE. The SB Audigy SE sound card supports 7.1 channel audio at 24 bit/96kHz audio resolution (both between Analog to Digital and Digital to Analog) with a 100dB signal to noise ratio. The SB Audigy SE supports EAX ADVANCED HD 3.0 for games and CMSS Up Mixes for stereo content for 7.1 surround sound speakers.
Onboard audio connectors include the yellow SPDIF output next to the IEEE 1394 connector. On the audio jacks, there's line in, line out, microphone, RS (rear surround) out, CS (center, subwoofer) out and an optical SPDIF output connector. It shouldn't be an issue for most of you, but software requirements do require at least SP4 for Windows 2000 and SP1 for WindowsXP.
MSI Dual CoreCell Chip and Overclocking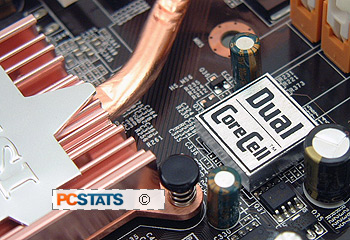 By now you may have noticed the aluminum "Dual Core Cell" block along side the memory slots and southbridge on the MSI K9N Diamond.
Core Cell is MSI's catch phrase for a collection of features and software that; decreases overall system noise, reduces power consumption, prolonging the life of system components, and enables quick and easy overclocking.
Depending on what you're doing, Dual Core Cell can slow down the CPU and other system fans by up to 50% to reduce overall system noise. Unfortunately MSI's literature is not very specific about how Dual Core Cell technology saves on power, or prolongs the life of your components....
Info is hard to come by so I have to admit we're a little in the dark on the full explanation of the little IC which hides below the shiny aluminum block. I'd guess this is rolled in with AMDs Cool 'n' Quiet technology.
The most significant feature of Dual Core Cell are its overclocking functions. It permits users to not just overclock their system within Windows (FSB and voltage adjustments available), it also allows the system itself to dynamically overclock your computer by default (up to 11%) when under load. It's a nice option for users who don't know much about overclocking, as it allows them to get their feet wet without diving into all the tools and options of the BIOS, wich can be overwhelming.
Accessories and Brackets
Looking around the box of bundled items included with the MSI K9N Diamond motherboard, we find an assortment of Serial ATA data and power cables, a set of pretty underwhelming IDE and floppy drive rounded cables, the SLI bridge connector, one two-port firewire bracket and MSI's proprietary D-Bracket 2/USB bracket.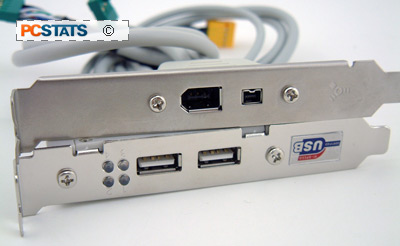 The D-Bracket 2 basically acts as a Port 80 card to help diagnose problems during boot-up.