After a grueling battle that really did go the full twelve rounds, the epic bout between the Radeon HD 5870 and the Geforce GTX 480 comes down to a split decision.
Both videocards have excellent gaming performance, and in older games especially the Geforce GTX 480 achieves higher frame rates than Gigabyte's overclocked Radeon HD 5870 does. The Geforce GTX 480's tessellation also earned some major points in the Uniengine Heaven benchmark, which uses DirectX 11's tessellation tools to push the geometry rendering capabilities of both of these videocards to their very limits.
However when it comes to performance in the games that are the biggest struggle for today's videocards, recent shader-intensive games like Crysis and STALKER in DX11 mode, Gigabyte's GVR587SO-1GD is the stronger videocard of the pair. It's the better choice for today's games, and it looks fast enough to hold its own as more titles introduce DX11 effects. The winner and recommended videocard is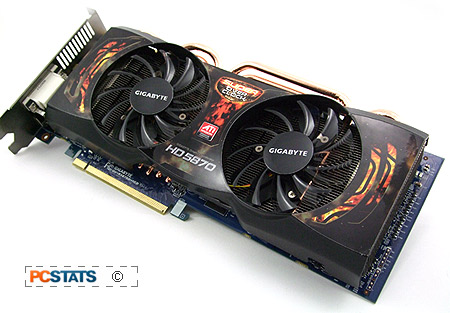 Gigabyte's GVR587SO-1GD Radeon HD 5870 Graphics Card.
A big part of ATI's success here is thanks to Gigabyte's efforts to push even more performance out of the Radeon HD 5870. Extensive modifications and customization has turned ATI's stock flagship videocard into the GVR587SO-1GD, a heavily overclocked, custom cooled prizefighter. The build quality of the GVR587SO-1GD is excellent, with Gigabyte selecting higher tolerance electrical components and cherry picking GPUs, to tier 1 Hynix memory and low ESR Proadlizer capacitors.
This extra attention to build quality has made Gigabyte's GVR587SO-1GD videocard a scrappy overclocker as well. The videocard has already been factory tuned from 850MHz up to 950MHz, and with a bit of voltage tuning PCSTATS was able to pump the core clock speed up to an even 1000MHz.
The 1GB of Hynix GDDR5 memory also overclocked like a champ, it was easy to pump it from 1.25GHz up to 1.45GHz (5.8GHz quad data rate). Overclocking using Gigabyte's OC Guru software was straightforward, and the ability to adjust GPU voltages from within Windows is a major plus.
Along with with its strong overclocking abilities and speed, the GVR587SO-1GD also bring the special features of the Radeon HD 5800 family, which includes support for DisplayPort and EyeFinity. DisplayPort makes it possible to hook up as many as three DisplayPort-based monitors at once by daisy chaining them together, and with Eyefinity mode enabled you can tile separate screens into one giant display for gaming.
With both Gigabyte's GVR587SO-1GD and the Geforce GTX 480 sharing a retail price of around $510 CDN ($500 USD, £350 GBP), it's difficult to declare a clear winner. Both videocards have their strengths, with the NVIDIA card doing better in scenarios with extreme tessellation and in raw geometry power. The GVR587SO-1GD hits back with excellent performance in real world gaming benchmarks and shader intensive titles. Ultimately, Gigabyte's GVR587SO-1GD videocard gets my vote thanks to its lower power consumption and noise levels, excellent overclockability and Gigabyte's superb build quality in this non-reference design... but make no mistake that this was a very close fight.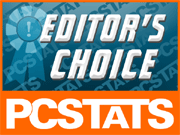 Find out about this and many other reviews by joining the Weekly PCstats.com Newsletter today! Catch all of PCSTATS latest reviews right here.
Related Articles
Here are a few other articles that you might enjoy as well...
- ASUS EAH5850 DirectCu Top/2DIS/1GD5 Radeon HD 5850 Videocard Review
- ASUS EAH5770 CuCore/2DI/1GD5/A Radeon HD 5770 Videocard Review
- Gigabyte GV-567OC-1GI Radeon HD 5670 Videocard Review
- Gigabyte GV-N26SO-896I Geforce GTX 260 Videocard Review
- ASUS ENGTX260 MT/HTDI/896MD3-A GeForce GTX 260 Videocard Review
- Gigabyte GV-N285OC-2GI Geforce GTX 285 2GB Videocard Review