Overclocking Results:
The Gigabyte GV-R587SO-1GD videocard ships pre-overclocked, so out of the box it's faster than a reference PCI Express x16 Radeon HD 5870 videocard. But what fun is that? The real performance enthusiasts will grab this bull by the horns (or the heatpipes) and overclock it by hand. Fortunately it doesn't take much time overclock the GVR587SO-1GD's memory and RV870 GPU even faster.
By default the Radeon HD 5870's GPU has been raised from the stock 850MHz to 950MHz and the memory from 1200MHz up to 1250MHz (which is then quad-pumped to 5000MHz GDDR5). That's already a good performance advantage, but given the extra effort Gigabyte went through to cherry pick the GPU and use higher tolerance Hynix memory for these graphics cards, it just calls out to be overclocked in ATI Overdrive or Gigabyte's OC Guru application.
Both the ATI and Gigabyte OC Guru software allow you to boost GPU and memory speeds, but only the OC Guru applet makes it possible to increase voltages for the memory and GPU to improve overclocking stability.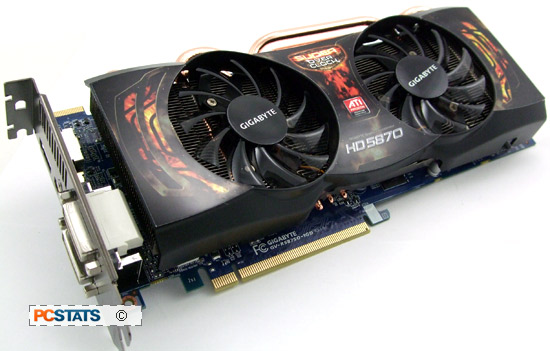 GPU Overclocking
Using Gigbayte's OC Guru software, the core engine clock was pushed from its default, pre-overclocked state of 950MHz up in small increments. The Radeon HD 5870 easily managed 875MHz, 900MHz, 925MHz, 950MHz and for a few seconds 995MHz. A quick reboot later and the GPU was back at 995MHz, but this time with GPU voltage increased from 1.187v to 1.257v. This kept things stable enough for PCSTATS to overclocked the Gigabyte GV-R587SO-1GD's GPU to 1005MHz and even 1015MHz for a few moments. However in the end, the max stable overclock for the Radeon HD 5870 GPU alone was 1005MHz, at 1.257v.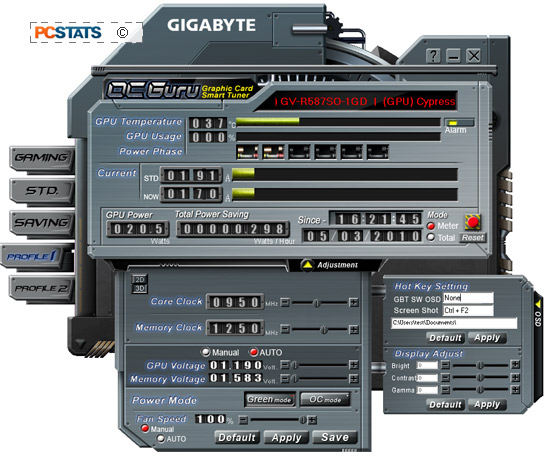 Hynix GDDR5 Memory Overclocking
Turning to the memory (GPU back at default speeds), the 1GB of GDDR5 was pushed from its factory overclocked state of 1250MHz up to 1300MHz out of the gate. The Gigabyte GV-R587SO-1GD videocard played well enough, so we were able to overclock its Hynix GDDR5 even further... from 1345MHz all the way up to 1440MHz without breaking a sweat. At 1470MHz artifacts began to show up in 3Dmark06, so we dropped it down a touch before calling it a day. Max overclock for the GDDR5 memory alone was 1455MHz.
Overclocking both the Radeon HD 5870 GPU and Hynix GDDR5 memory to the speeds achieved above, proved to be a bit more tricky... By raising the GPU voltage from 1.187v to 1.257v and overclocking the GPU to 1000MHz, the Gigabyte GV-R587SO-1GD videocard seemed happy enough to allow PCSTATS to push the memory to 1445MHz.
Altogether PCSTATS was able to overclock Gigabyte's GV-R587SO-1GD videocard to 1000MHz GPU at 1.257v, and 1445MHz (5780MHz) memory. The Radeon HD 5870 proved to be the more difficult of the two parts to overclock, while the Hynix GDDR5 overclocked like a dream.
While these maximum overclocked speeds are good to know, you should keep in mind that with this generation of Radeon GPU you'll see diminishing marginal gains the further you push the GPU and memory clock speeds. The best advice I can give you is to overclock slowly and benchmark at every step to figure out what OC speeds give you the best return.