Naturally, the HDMI 1.3 output from the Gigabyte GVR587SO-1GD videocard also carries audio if connected to a compatible display or receiver. Gigabyte also includes HDMI to DVI adapter and DVI to VGA adapter, just in case you have an older secondary display.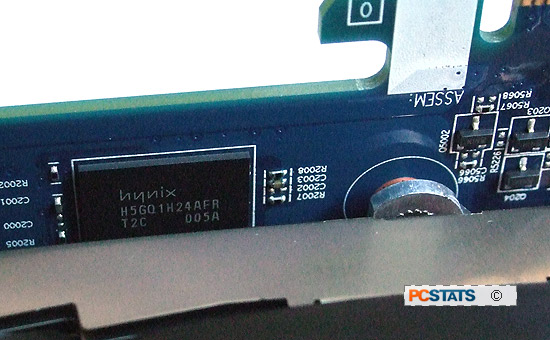 Gigabyte has selected 1024MB of Tier 1 Hynix H5GQ1H24AFR-T2C memory for the GVR587SO-1GD, which tends to have higher tolerances for voltages and heat that can make it more stable for overclocking.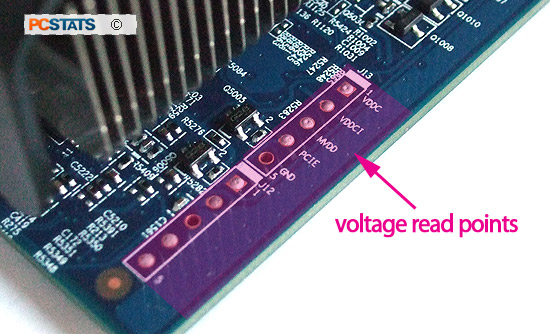 Special voltage read points have also been integrated into the edge of the videocard PCB so that enthusiasts can directly measure the PCI Express, Memory, GPU I/O and GPU core voltages of the GVR587SO-1GD videocard during more, shall we say "intensive" overclocking attempts. If you don't know what these are for, don't mess around with them!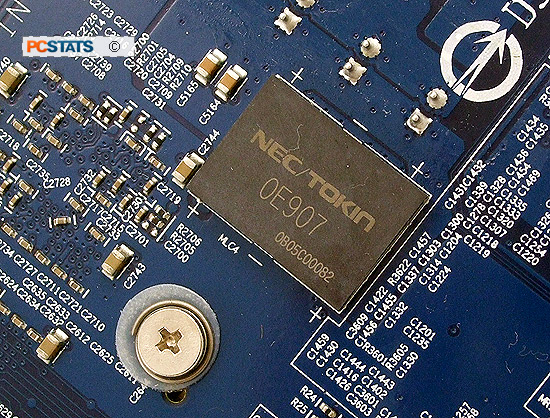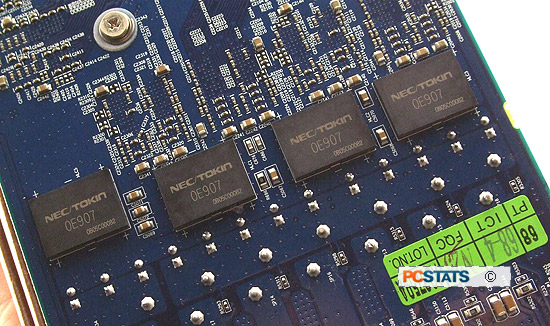 Gigabyte uses five NEC/Tokin Proadlizer film capacitors (Model: 0E907) on the GVR587SO-1GD videocard. These capacitors are rated at 2.5v and 900uF and look like slightly thicker BGA DRAM. The capacitors are used to provide more stable power as the GPU and memory.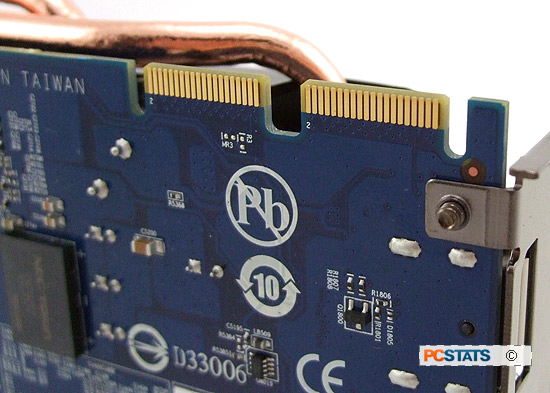 If you have a compatible motherboard with dual PCI Express 2.0 x16 or x8 slots, you can use the included Crossfire bridge to hook up another Radeon HD 5850 videocard in CrossfireX mode.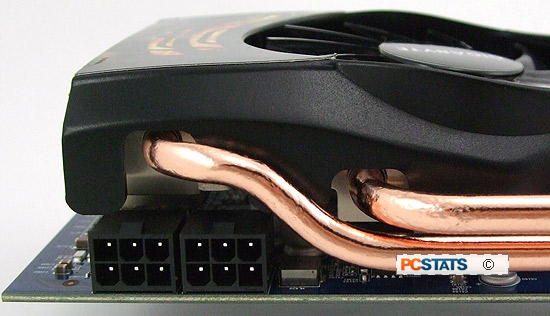 The Gigabyte GV-R587SO-1GD videocard requires additional power via two 6-pin PCI Express power connectors, top mounted so the cables won't be in the way of the computer chassis drive bays. Gigabyte includes a pair of molex-to-6-pin PCI Express power adapters, which make it compatible with a wide range of power supplies. The best is yet to come! Have you ever wanted a flagship graphics card with a really quiet heatsink that doesn't suck? Well, Gigabyte came up with a great thermal solution for its GV-R587SO-1GD videocard, let's take a look.