You've got a ringside seat to the battle of the DirectX 11 century.
The two fastest single-GPU videocards of this generation are going head-to-head to see which graphics card will score the highest Frames Per Second and push the most eye candy for the performance gamer to enjoy. In one corner is ATI's Radeon HD 5870, which has been the reigning champion of 3D performance since it debuted in the second half of 2009. The challenger is NVIDIA's much hyped and long anticipated entry into the DX11 arena, the Geforce GTX 480 graphics card. NVIDIA took an extra six months to bring out its first DX11 videocard, and has seen fit to equip its latest flagship videocard with a dramatically redesigned architecture dubbed "Fermi". Nvidia has promised that it will trade blows evenly with ATI's finest... we'll see about that.
Of course having six months to train for a fight like this means that ATI's partners have had some time to prepare even faster versions of the Radeon HD 5870. Enter Gigabyte and the GVR587SO-1GD videocard, which increases the Radeon HD 5870's core clockspeed from 850MHz to 950MHz, increasing the effective frequency of its GDDR5 memory from 4.8GHz up to 5GHz. This beauty of a videocard uses a custom dual-fan heatsink design for better cooling and takes advantage of Gigabyte's Ultra Durable VGA+ manufacturing techniques.
ATI's Radeon HD 5870 was no punching bag to begin with, thanks to its RV870 "Cypress" GPU. It's the fastest and most powerful member of ATI's 'Evergreen' series of graphics cards yet. The Cypress GPU powers all of the Radeon HD 5000-series of videocards. "Cypress" already has the fastest GPU and memory clock speeds, and only the Radeon HD 5870 uses 'Cypress' GPUs that have a full 1600 shader processors and 80 texture units. It's the fastest single-GPU videocard that ATI offers, and the obvious choice for slugging it out with the Geforce GTX 480.

Gigabyte GV-R587SO-1GD Videocard




INCLUDES:
User's Manual, Driver CD, Utility CD, (2)molex-to-PCI Express converter, DVI to VGA converter, ATI CrossfireX bridge

Graphics Processor: ATI Radeon HD 5870 (950MHz)
Memory Capacity: 1GB GDDR5 (5000 MHz)
Card Format: PCI Express x16 2.0, two slots wide.
Outputs: DisplayPort, HDMI, DVI-D
Videocard Class: Enthusiast
Gigabyte's special conditioning of the Radeon HD 5870 has gone beyond just factory overclocking the memory and core clock speeds. Gigabyte has also introduced the GVR587SO-1GD to the Ultra Durable VGA+ regimen; a pretty extensive array of component tweaks and improved manufacturing techniques. You may already be familiar with Gigabyte's Ultra Durable features if you've built a PC recently, and indeed some aspects like a 2oz Copper PCB, low RDS MOSFETs, Japanese solid state capacitors are Ferrite choke cores have carried over to its graphics cards.
New to this Ultra Durable VGA are five 'NEC Proadlizer' film capacitors, which we're told allow for more stable power delivery during the heavier electric loads that come with extreme overclocking. PCSTATS really has no way to confirm this, but them caps' sure do look expensive!

Gigabyte has also cherry picked the ATI RV870 GPU used for its GVR587SO-1GD videocards, testing each GPU for stability at the higher factory overclocked speeds than the GVR587SO-1GD ships with. Gigabyte calls this process the 'GPU Gauntlet,' and we can only imagine this involves little digital horses with the GPUs strapped on galloping towards one another like some modern version of medieval jousting. We'll see a little later on in this review if this extra conditioning will make the GVR587SO-1GD not just a performance champion, but an actual world-class overclocker as well. Tier 1 Sasmsung/Hynix memory has also been selected to give this customized videocard every possible edge.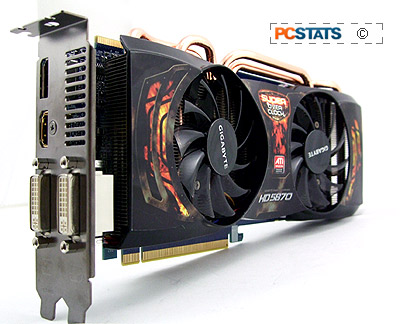 GTX480 vs. Radeon 5800 Series
Having seen just how well the Radeon HD 5850 performed on the PCSTATS' test bench, the anticipation is ripe to see if a pumped-up and overclocked version of the big brother ATI Radeon HD 5870 will hold its own against NVIDIA's rival Geforce 400 family of videocards.
Every member of the Radeon HD 5000-family has native DirectX 11 support and is CrossfireX compliant. All of these DX11 cards also support new rendering techniques like tessellation which can greatly increase the details and complexity of 3D geometry, and GPGPU computing which allow the videocard to do specialized tasks like video encoding and image processing faster than a CPU. The Radeon HD 5870 is also compatible with Shader Model 5.0, as well as OpenGL 3.2 and supports CrossfireX.
Like most prizefighters, Gigabyte's GVR587SO-1GD PCI Express 2.0 x16 videocard commands some pretty high prices for this level of performance. Expect to pay around $510 CDN ($500 USD, £350 GBP) to get your hands on one of these babies, and be prepared to shop around a bit since demand is still very high for this heavily customized and overclocked Radeon HD 5870.
Gigabyte makes the Radeon HD 5870 eat lightnin' and burp thunder
Video outputs on the dual slot wide Gigabyte GVR587SO-1GD videocard include two DVI, one HDMI and one DisplayPort. DisplayPort increases bandwidth rates that go up to 17.2Gb/s, so it can support multiple high resolution monitors. DisplayPort can also be daisy-chained, so a single display port output can be connected to a DisplayPort compatible monitor, and that monitor can then be connected directly to another monitor, and so forth.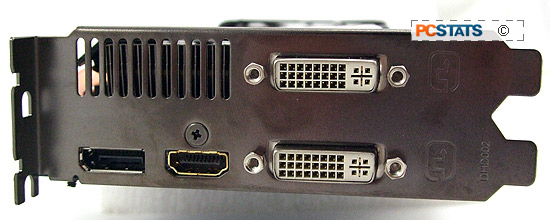 Video outputs: DisplayPort, HDMI, and two DVI.
ATI built the Radeon HD 5850 to natively support up to three monitors (with resolutions up to 2560x1600) at once using its Display Port output. This videocard will also support newer 120Mhz monitors designed for 3D stereoscopic gaming, as well as ATI's own Eyefinity gaming modes that allow monitors to be 'tiled' together to form one massive display. To fit all these ports, and the trick thermal solution, the Gigabyte GVR587SO-1GD videocard will take up to slots.
Of course if you don't have a DisplayPort-based monitor you can still use the Gigabyte GVR587SO-1GD, since it also has both DVI (max resolution 2560x1600) and HDMI (1920x1200) video outputs.