Prelude to Benchmarks
The details of how the Gigabyte GVR587SO-1GD videocard was configured for benchmarking; the specific hardware, software drivers, operating system and benchmark versions are indicated below. All benchmarks for the videocard were run in Windows 7 Ultimate, the reference video cards were tested in both Windows XP and Vista for the DX10 benchmarks.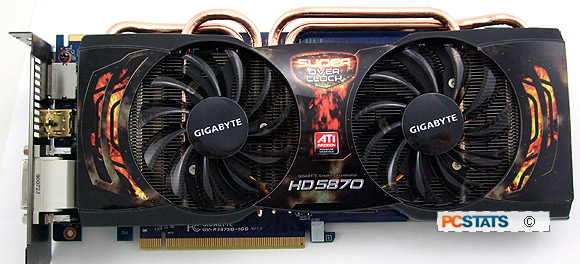 PCSTATS is in the process of making the transition to a Windows 7 and Intel CPU test platform, so keep this in mind as you scan the benchmark results. In the second column are the general specs this videocard is compared against.

PCSTATS Test System Configurations
Benchmark results are organized by GPU manufacturer first (AMD/ATI or nVidia), then by GPU generation, and then by GPU class (high end, mainstream, value). This approach provides a clearer view of how performance can differ from generation to generation, and class to previous generation. The product being tested is marked with the red colour bar.