Gigabyte uses a non-reference heatsink and fan design to cool the GVR587SO-1GD videocard that is very quiet at full fan speed, and works quite well. The customized heatsink design is about the same size as a stock dual-slot Radeon HD 5870, but make no mistake that this is still a big videocard, just over 28cm long. The heatsink and fan is wide enough to take up two of your motherboard's PCI Express x16 slots, so make sure to plan out your system expansion configuration and measure out how much space there is inside your chassis before dropping $500 on one of these videocards.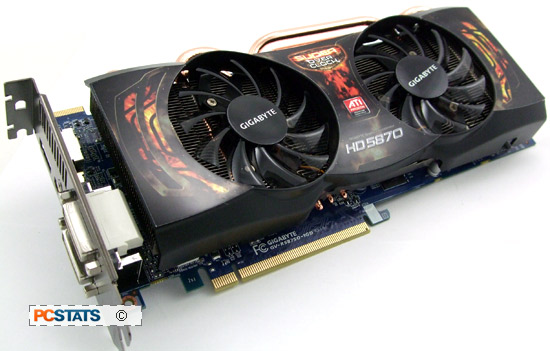 Under testing the Gigabyte GVR587SO-1GD's dual fans didn't generate much noise even when turned up to full blast. When set to automatic mode the fans become inaudible when the videocard is idle. The same can't be said for the Geforce GTX 480, which is loud enough to become a distraction when its fan ramps up to full speed and is seemingly always really, really hot.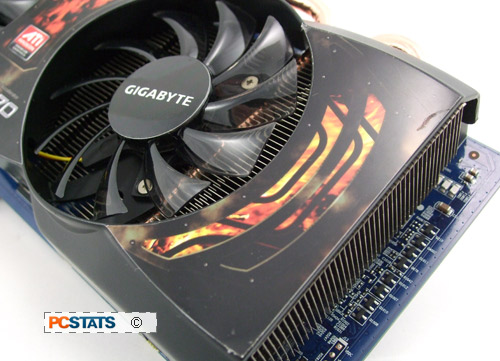 The GVR587SO-1GD uses four heatpipes to conduct heat away from the RV870 'Cypress' GPU, distributing the thermal energy along an array of aluminum fins that in turn are cooled by the dual fans. This design doesn't vent all off its heat exhaust out of the rear of the videocard, so it's a good idea to have a system chassis fan or two to lower the ambient temperature inside your computer as well. The Coolermaster HAF932 is an excellent case choice for this very reason.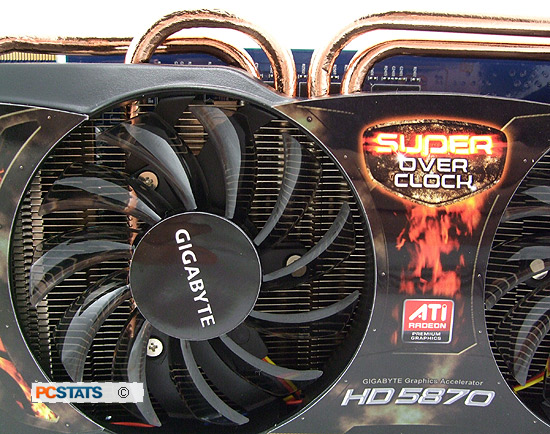 Now let's get a little more familiar with what's going on inside ATI's flagship GPU, the RV870 'Cypress' GPU.