802.11n & Bluetooth Smart 4.0 WiFi
As we mentioned at the top of the review, the Gigabyte GA-X79-UD5 motherboard comes with a nifty PCI Express x1 expansion card that supports Bluetooth 4.0 (Smart Ready) and 802.11b/g/n Wi-Fi connectivity standards. The idea is that with the increasing number of smart phones in use nowadays, users want to augment the keyboard and mouse with a mobile device. This infrastructure allows a tablet or smart phone to leverage apps such as Splashtop and VLC Remote (iPhone, Android, Web OS, iPad) to manage content on a desktop in a sort of cloud-type-environment, or even simply permit easier data syncing between devices.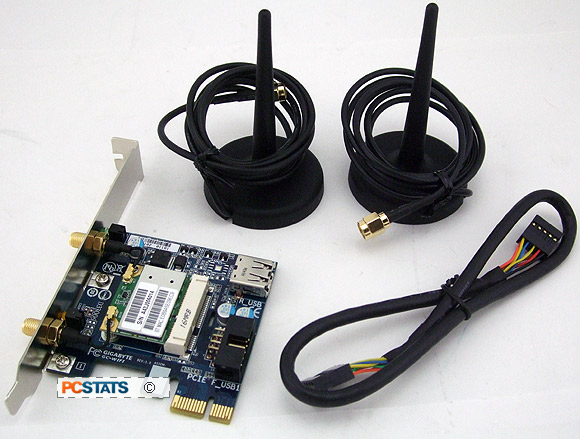 Gigabyte GC-WIFI Bluetooth 4.0 and 802.11b/g/n PCI Express x1 bundle-in card.
The Gigabyte GC-WIFI card installs into either of the GA-X79-UD5's two PCI Express x1 slots and a USB jumper is connected to one of the boards standard USB 2.0 headers. It's best to leave the red-marked USB 2.0 header for a front panel USB bracket since this port supports rechargeable USB devices when the computer is powered off. Gigabyte 'On/Off Charge' USB ports are useful for charging up an iPad or iPhone.
The Bluetooth 4.0 device connects to the PC via the two-port USB jumper cable, so a single internal USB 2.0 port is offered on the card too. The 802.11b/g/n wireless card uses the higher bandwidth PCI Express x1 interface for data transmission.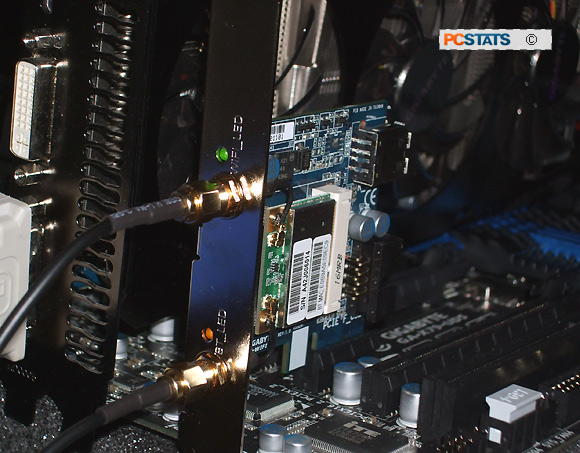 One antenna is for Bluetooth 4.0. The other antenna is for 802.11b/g/n wireless.
On the supplied driver CD Gigabyte include a small utility called 'CloudStation' which help apps to communicate and share resources on the PC.
Wireless Networking Benchmark - Passmark 7
Care of PassMark's Network Speed Graph, here's a quick results set for the Gigabyte GC-WIFI 802.11b/g/n card in terms of speed and throughput. If you recall, 802.11n is rated to a maximum speed of 300 Mbps (100-150Mbps average throughput) and operates on a 2.4GHz signal to give it a theoretical indoor range of ~70m. The first chart is UDP, second chart is TCP results.

Over UDP, average transmission is 48.77 Mbits/second.

Over TCP, average transmission is 41.33 Mbits/second.
PCSTATS measures total system power draw (watts) with the aid of an Extech 380803 AC Power Analyzer and A-PFC compliant Seasonic SS-760KM power supply. The meter is placed between the 120V AC outlet and the PC power supply and the computer stressed. Total system power draw is recorded and compared to the PC's idle state.
The Gigabyte GA-X79-UD5 test system draws 90W while idle at the desktop. Under 100% CPU load conditions with Prime95, total system power draw jumps to 207 Watts. 3DMark06 pushes power draw to a peak of 280W.
Time to wrap up this in-depth review an sum up what PCSTATS thinks of the Gigabyte GA-X79-UD5 motherboard. All that and more after the jump...