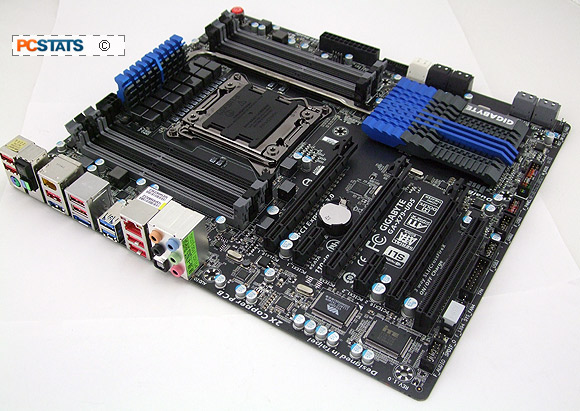 Gigabyte released four platform variations on the Intel X79 chipset, the replacement to Intel's X58 / Nahalem platform. The mainstream -UD3, the high end -UD5 that PCSTATS tested in this review and an overclocking centered -UD7 model. A final variant is the gamer/overclocker focused G2.Assassin that runs about $500 bucks.
The Gigabyte GA-X79-UD5 is the only motherboard of the bunch with eight DDR3 memory slots, making it capable of supporting an astounding 64GB of RAM. To say it's got potential is an understatement.
As we've seen in this in-depth review, Gigabyte's GA-X79-UD5 motherboard is an excellent platform at $320 USD/CDN for content creation/high end workstation tasks in most every respects. It has plenty of memory capacity when paired with Windows 7 x64, loads of connectivity and storage head room, and offers good value when equipped with the $260 Intel Core i7 3820 Sandy Bridge-E processor.
The LGA2011 platform has 40 PCI Express lanes to dish out so three-way graphics is easily supported if you can afford such luxury.
Curiously, the Intel X79 core logic is not a whole lot different than the Intel Z68/P67 chipsets in terms of supported features, ports and PCI Express lanes. Some reviewers have even suggested that Intel's original LGA1155 'Sandy Bridge' platforms offer a better value platform as the CPU-to-CPU performance is comparable, but total system cost dramatically reduced. This is true in some respects as you've seen in the benchmarks, but not entirely so. The increased number of cores under the built of Sandy Bridge-E (8 logical vs 4) and higher clock speed give LGA2011 a distinct advantage, just as much as the increased Cache size and additional memory channels do in memory-specific benchmarks like Sandra.
Overclocking is also far and away easier than you would expect from a partially unlocked processor. In PCSTATS tests we had no difficulty whatsoever increasing the CPU multiplier as high as Intel allows and enjoying the benefits that a boost from 3.6GHz to 4.3GHz afford.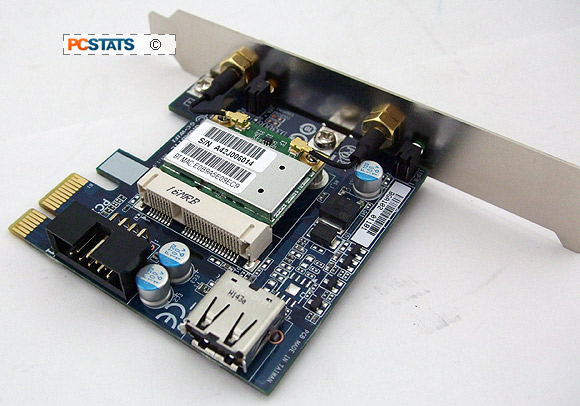 Bundled GC-Wifi 802.11n/g/b and Bluetooth Smart 4.0 card
Deciding which motherboard you'll use to assemble a powerful Content Creation computer system or killer Gaming Rig around is a challenging question. Even enthusiasts, who tend to approach the question backwards, starting with the chipset or CPU and then figuring out the rest, sometimes get stuck deciding between motherboards. Motherboards are in every sense the foundation of all your upcoming PC's glory, or maddening frustration and failures. It pays to choose wisely.
As it stands, Gigabyte's GA-X79-UD5 is a fantastic motherboard for a dual-videocard gaming system because it offers two/three-way SLI/Crossfire support, a good amount of USB 3.0 and plenty of SATA III. Bottom line, let these benchmark results serve as a reminder of the potential that Intel's 2nd Generation Sandy Bridge-E processor brings to the table.
As we've seen over the course of this extensive review, the Intel X79-based Gigabyte GA-X79-UD5 is a mostly fantastic platform and rock solid foundation to assemble a new PC on. PCSTATS was generally unhappy with the laggy 3D BIOS but even that disappointment wasn't a deal breaker in our books. Given the memory capacity this board can handle, the expansive SATA III ports and clean layout, we'd highly recommended the GA-X79-UD5 for anyone contemplating the move from a 32-bit operating system environment to 64-bit. A motherboard like the Gigabyte GA-X79-UD5 will get you in the game with plenty of room to grow for several years down the road. That's the kind of future proofing PCSTATS can certainly recommend!
Find out about this and many other reviews by joining the Weekly PCSTATS Newsletter today! Catch all of PCSTATS latest reviews right here.
Related Articles
Here are a few other articles that you might enjoy as well...
- ASUS P8P67 Pro Intel P67 Motherboard Review
- ASUS P8H67-M Evo Intel H67 Express Motherboard Review
- ECS H67H2-M Black Edition Intel H67 Express Motherboard Review
- Biostar TH67XE Intel H67 Express Motherboard Review
- Gigabyte GA-P67A-UD7-B3 Intel P67 Motherboard Review
- Gigabyte GA-Z68X-UD5-B3 Intel Z68 Motherboard Review
- Gigabyte GA-Z68XP-UD3-iSSD Intel Z68 Motherboard & Intel 20GB SSD Review