Three-way SLI / Crossfire and PCI Express 3.0 Compliance
Considering the 40 PCI Express lanes that socket LGA2011 Sandy Bridge-E processors bring to the table, it's worthwhile rigging up a two or three-way SLI/CrossfireX configuration if you're a serious gamer. The PCI Express x16 slots on the GA-X79-UD5 motherboard are PCI Express 3.0 compliant and support SLI/CrossfireX in x16/x16/x8 and x16/x16 modes. If you're looking for the best bang for your buck however, two-way SLI/Crossfire is probably it. Beyond that, the law of diminishing returns kicks in full force and you end up spending a lot of money on graphic card with relatively little extra gaming speed in return.
Here's the block diagram for the Gigabyte GA-X79-UD5 board.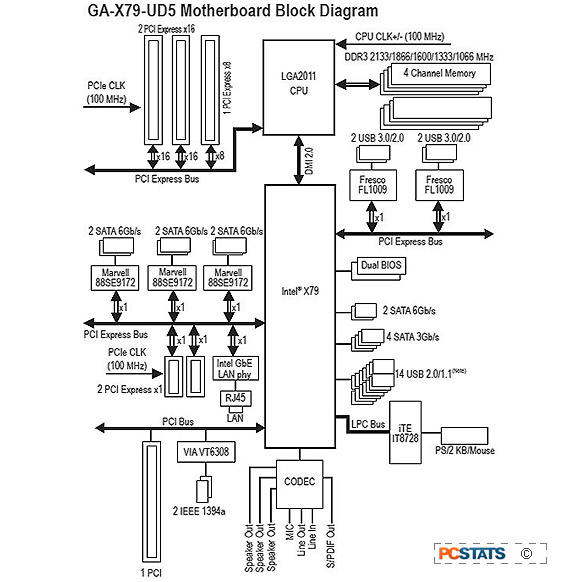 PCI Express 3.0 Compatible
The old PCI Express 2.0 standard has been around for a couple years now, but in mid-2011 PCI-SIG sought to upgrade it. The Gigabyte GA-X79-UD5 motherboard is compatible with the newly released PCI Express 3.0 standard that brings with it an incremental upgrade to 8 GT/s, or 16GB/s bi-directional bandwidth for each PCI Express x16 videocard slot. The older PCI Express 2.0 standard delivered 5 GT/s, or 8GB/s bi-directional bandwidth to each x16 videocard slot. In 2013 or 2014 PCI Express 4.0 is expected to also emerge (at 16 GT/s) but for the time being it's just a proposed spec by PCI-SIG.
At the time of this review, the only PCI-E 3.0 graphics card in stores is AMD's Radeon 7970; as fast and cool as it is, even that graphics card is under utilizing the bandwidth available to it. PCI-E 3.0 is nice to have for future proofing a computer system, but not a critical 'must have' for gamers so don't get too caught up in it.
As near as PCSTATS can decipher, with two videocards installed in the Gigabyte GA-X79-UD5 each graphics card runs at x16/x16 mode. If the third PCI Express x16 slot is filled the graphics cards will run in x16/x16/x8 mode.
All three PCI Express x16 slots on the Gigabyte GA-X79-UD5 motherboard are PCI Express 3.0 complaint (backwards compatible with PCI-E 2.0 devices), the remaining two PCI Express x1 slots are PCI-E 2.0 complaint. Legacy expansion is supported by a single PCI slot. Fitting three, dual-slot wide graphics cards side-by-side won't be a problem with this board.
Along the bottom of the Gigabyte GA-X79-UD5 board are headers for the following devices/ports: front panel audio, Firewire, trusted platform module, (3) USB 2.0 and a clear CMOS jumper.
The red USB 2.0 header means this port supports Gigabyte's 'On/Off Charge' - meaning the USB port continues to receive power when the rest of the PC is off so your phone that charges over a USB connection, can recharge.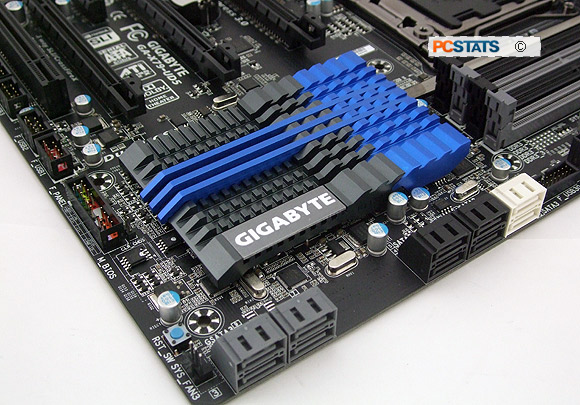 Ten SATA Ports; (4) SATA2 and (6) SATA3!
In this corner of the Gigabyte GA-X79-UD5 motherboard we find a physical Reset button in blue (the Power button is located in the top right-hand corner by one set of memory slots), the dual UEFI BIOS chips, front panel I/O header and a flurry of SATA ports. To the right of the SATA ports is a USB 3.0 header for the two-port USB 3.0 front panel 3.5" bay bracket which is included in the box. In a style commensurate with the class of this motherboard, the USB 3.0 bracket is made from nice brushed black-anodized aluminum.
The Intel X79 Express chipset doesn't produce much heat, all it requires is a low profile passive aluminum heatsink.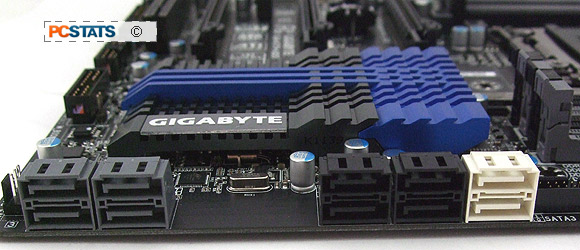 From left to right: four SATA III ports (grey), four SATA II ports (black), two SATA III ports (white).
I like to run a lot of hard drives on the computers I build, as I'm sure you do too. In this respect the GA-X79-UD5 is very well equipped. The board offers users two 6Gb/s SATA III and four 3Gb/s SATA II ports via the Intel X79 chipset (RAID 0/1/5/10 inclusive). Gigabyte sweetened the deal with four additional 6Gb/s SATA III ports care of a pair of Marvell SE9172 controllers. Both sets of Marvell derived SATA III ports feature RAID 0/1 support.
Two additional 6Gb/s e-SATA III ports are located on the rear I/O, care of a third Marvell controller. The Gigabyte GA-X79-UD5 has got a lot of connectivity going on for it! Memory is coming up after the jump....